Giancarlo Perlas
March 8, 2014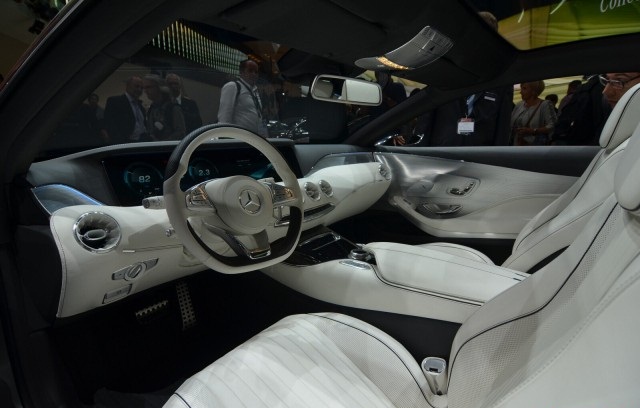 We already know that the compact and curvaceous 2015 Mercedes S-Class Coupe boasts a first-class design and style. Then, its 4.7-liter V8 engine can pump up to 449 hp and 516 lb-ft of torque through its seven-speed 4MATIC all-wheel drive system.
Aside from its engine performance and style, the 2015 Mercedes S-Class Coupe also features a series of technologies that will surely impress tech-savvy customers and fans.
Here is a quick look at the noteworthy high-tech elements offered by the 2015 Mercedes S-Class Coupe which the three-pointed star brand showcased during the 2014 Geneva Motor Show:
1. Dual LCD Monitor
Gone were the gauges that were usually found in standard cars. The S-Class Coupe has redefined what the elements of the dashboard should look like in future cars. The dual LCD monitor of the car provides easy access to its overall configurations and critical elements through the touch panel control found on the vehicle's central console.
2. Magic Sky Control
The Magic Sky Control lets the driver or passenger configure the amount of light coming into the roof down into the cabin of the 2015 Mercedes S-Class Coupe. The feature which debuted in the SL utilizes the patented SPD-SmartGlass technology by Research Frontiers Inc. With only a touch of a button, the driver or passenger can turn the vehicle's tinted sunroof from dark to clear instantly to either allow or prevent light from coming in.
3. CarPlay
The CarPlay was originally dubbed as the iOS in the car because it literally brings the high-end features of the iOS into the new  S-Class Coupe. The 2015 Mercedes S-Class Coupe is actually the first car to debut this feature which will let the front occupants of the car place hands-free calls, send or receive texts, play music, access maps and operate the navigational controls of COMAND.
4. Active Curve Tilting Function
The Active Curve Tilting technology is designed to provide utmost comfort and high-end experience to the occupants of the car. The feature goes hand-in-hand with the Active Body Control feature of the auto. Basically, the Active Curve Tilting function lets the car counter the effects of centrifugal force when turning into corners, making it literally angle its body to prevent its occupants from slipping from their seats.
5. Perfume Dispenser
Last but not least, the new car offers a perfume dispenser that will distribute "automotive room scent" all over the cabin to provide the olfactory system of its occupants  with soothing and sensational feeling.