Giancarlo Perlas
March 17, 2018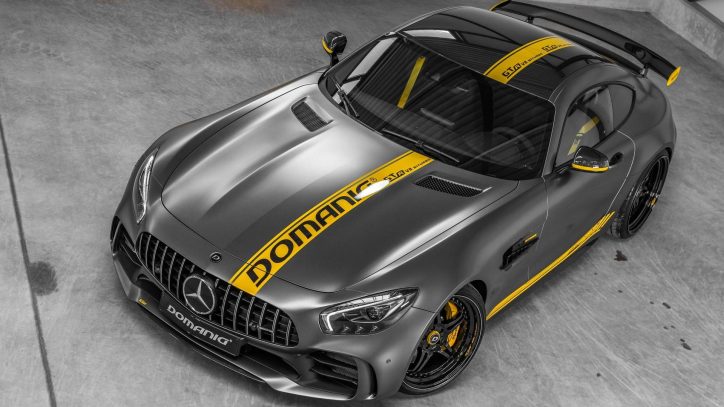 Latest reports say that the Mercedes-AMG GT Black Series is not due until 2020. But why wait that long if there's already a Mercedes-AMG GT R tuned to deliver up to 769 hp?
Domanig Autodesign, an aftermarket tuner notorious for bringing out more power to the iconic Mercedes-Benz SLS AMG Black Series and the Mercedes-AMG GT S, just released its new performance package for the Mercedes-AMG GT R. The project was made in partnership with the specialists of IMSA, the tuner recently responsible for giving one Mercedes-AMG GT S up to 860 hp.
According to a report, Domanig and IMSA made the numbers possible by equipping the 4.0-liter V8 engine of the Mercedes-AMG GT R with a set of larger turbochargers. The upgrades also include a new sports air filter, additional radiator and tweaked exhaust system.
Together with the 769 hp output is 708 lb-ft of torque. Compared to the stock configuration of the auto, there's a power boost of 192 hp and 192 lb-ft. To complement the very high performance increase, the tuners optimized the electronics in the Mercedes-AMG GT R's engine and recalibrated its gearbox software.
Due to the significant spike in its output, the tuned Mercedes-AMG GT R can go from zero to 62 mph in just 2.9 seconds. That's a lot of improvement from the original 3.5-second sprint of the vehicle from zero to 60 mph. Even the top speed of the car has been raised from 198 mph to a whopping 205 mph.
The Domanig Mercedes-AMG GT R has a lower ride height than the factory specs of the unit. Thanks to the tuner's lowering kit, it's down by 1.2 inches. On the other hand, the suspension lift system of the vehicle can bring up its ride height by 1.2 inches too.
Last but not least, the Mercedes-AMG GT R benefitted from a new set of wheels with five twin-spoke design measuring 20 inches in front and 21 inches at the back. The new rims come wrapped in Michelin Super Sport tires.