Giancarlo Perlas
July 3, 2018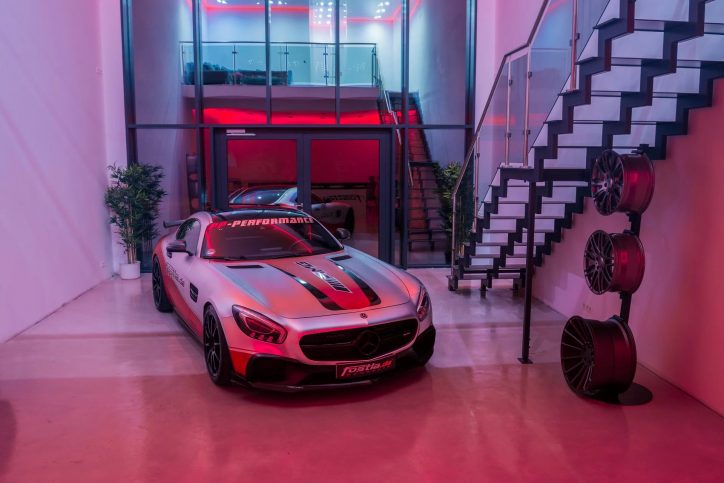 The Mercedes-AMG GT S is a magnificent sports car. AMG certainly did a great job in keeping the balance between the performance and design of the vehicle. For some who are looking for more ways to make their AMG GT S stand out, the aftermarket tuner Fostla just introduced a slew of upgrades for it.
The new Fostla package for the AMG GT S is worth €28,000 in Germany, which is about the starting price of the new Mercedes-Benz A-Class. The product includes an engine boost and a couple of cosmetic enhancements.
The Performance Boost
The 4.0-liter biturbo V8 engine of the Mercedes-AMG GT S produces 503 hp and 479 lb-ft of torque. Installing the Fostla upgrade will take the numbers up to 604 hp and 566 lb-ft. The power increase is made possible through Fostla's ECU tuning, BMC high-performance air filter, and Frequency Intelligent-exhaust-downpipes.
Fostla hadn't released any details about the 0-62 mph acceleration and the top speed of the AMG GT S with the tuning package. It should be noted though that the stock configuration of the car can take it from 0-62 mph in just 3.8 seconds while its max speed is capped at 193 mph.
The Makeover
The Fostla package wraps the AMG car in vynil with a two-tone matte silver and red pattern. It also comes with a PP-Performance logo on the windshield and Fostla letterings on the side panels.
Moreover, the package installs a new front splitter, intake add-ons, running boards, adjustable rear wing and rear diffuser to the vehicle. The said components make use of carbon fiber materials. The car receives a KW lowering suspension and H&R wheel spacers, too.