Giancarlo Perlas
February 8, 2016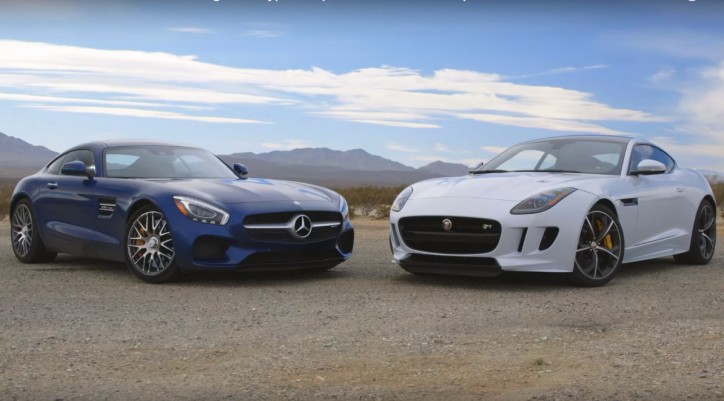 The 2016 Mercedes-AMG GT S was named as Motor Trend's Best Driver's Car for 2015. Among the contenders for the distinction was the 2016 Jaguar F-Type Coupe R. However, the latter only fell in the ninth place of the competition.
A couple of weeks ago, MT's Senior Features Editor, Jonny Lieberman, pitted the two cars head-to-head to compare their key features, particularly their performance. He reviewed their designs, then he took the two for a spin on the race track.
As a quick recap, the Mercedes-AMG GT S possesses a 4.0-liter biturbo V8 capable of producing 503 hp and 479 lb-ft of torque. Its power is distributed by a seven-speed dual-clutch automatic transmission gearbox. The auto has a curb weight of 3,691 lbs.
Opposite that is the Jaguar F-Type R equipped with a more powerful 5.0-liter supercharged V8 with an output of 550 hp and 502 lb-ft of torque. The power is distributed in all four wheels through an eight-speed automatic gearbox. The car is heavier than the competition with its 4,008 lbs of curb weight.
Going to the pricing, the Mercedes-AMG GT S is more expensive with its $130,825 price tag. The Jaguar F-Type R costs $104,525.
Lieberman did not mince his words in criticizing the styling of the F-Type R. The Mercedes-AMG GT S gained more love from Lieberman, especially in its design.
Upon driving the two, the odds heavily fell in favor of the Mercedes because of its superior braking. Also, despite the more powerful engine of the Jaguar, it was the Mercedes that finished the lap earlier, and the sports car bearing the three-pointed star logo logged a 145 mph max speed compared to the other's 142 mph in the whole run.