Giancarlo Perlas
July 3, 2018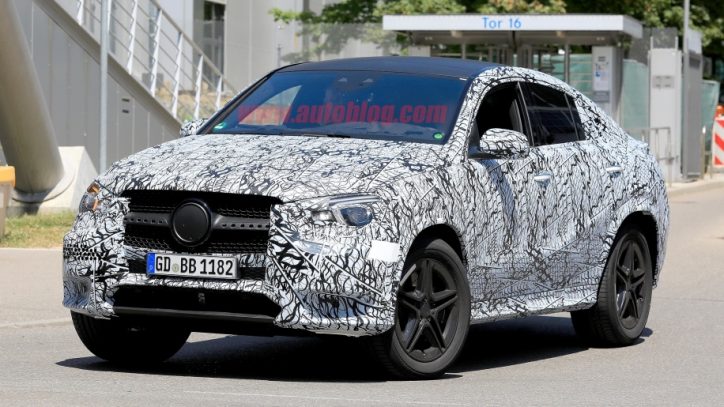 After seeing the Mercedes-Benz GLE Coupe for the first time in a spy video, new photos of the auto once again surfaced online. The images with higher resolution show the compact sport utility vehicle closer than the one we saw last week.
The pictures from Autoblog appear to be new because the version of the GLE Coupe we saw earlier was fitted with mismatched wheels. Compared to the older spy video, we can now see the front of the unit and it is already carrying a complete set of sports wheels.
The GLE Coupe in the new spy photos is still covered in a heavy zebra camouflage so it is really hard to see the updates of the upcoming model of the auto. It is evident though that the crossover features a redesigned front grille compared to its outgoing model. The new compact vehicle is also riding on a lower suspension, which makes it sportier.
The spied GLE Coupe still possesses most of its older unit's look. However, the new styling of its glass makes it sexier. The only downside of its narrow frame is it will slightly lower the overall visibility of the driver and passengers when they are looking outside. The light coming into the cabin of the crossover might diminish a bit too.
Shades of the CLS Seen
Meanwhile, the back of the upcoming GLE Coupe has some of the design elements found on the new Mercedes-Benz CLS. These include the slightly extended rear spoiler and the liftback that appears to lean more towards the front of the auto. Although the bumpers and lights of the spied GLE Coupe are still hidden from plain view, we expect that these will get the same level of detailing found in the new CLS.
Look forward to the arrival of the new GLE SUV model late this year. The vehicle will likely bear a 2019 model year. The coupe version of the SUV will most probably follow next year as a 2020 model.