Giancarlo Perlas
June 5, 2018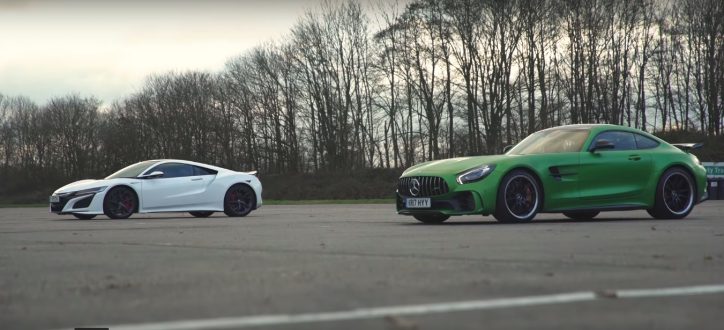 Which one wins if you pit German car engineering versus a Japanese sports car. It's brute engine against a hybrid in this drag race between the Mercedes-AMG GT R and the Acura NSX.
Tale of the Tape
First, let's take a quick look at the power units of the two performance cars.
The Mercedes-AMG GT R carries a 4.0-liter biturbo V8 engine. It produces 577 hp and 516 lb-ft of torque. All that power goes to the rear wheels via a seven-speed dual-clutch transmission. The car is 3,594 pounds heavy, giving it a 6.22 pounds per horsepower.
On the other hand, the Acura NSX has a hybrid powertrain. It is equipped with a 3.5-liter twin-turbo V6 engine paired to three electric motors. Overall, the setup is capable of delivering 573 hp and 476 lb-ft of torque. A nine-speed dual-clutch transmission distributes the power of the car to its rear wheels while the electric motors work in unison with the front wheels. The NSX weighs 3,803 pounds, making its power distribution at 6.63 pounds per horsepower.
Looking at the numbers, the Mercedes-AMG GT R is at an advantage against the Acura NSX. However, it seems that the all-wheel drive system plus the Launch Mode of the Japanese supercar certainly influence the outcome significantly.
The AMG GT R promises an acceleration from 0-60 mph in 3.5 seconds. The NSX boasts that it can do that in 2.7 seconds.
The Result
Watch the video here from carwow to find out which one will win in a quarter-mile drag race. It also shows the two being pitted against each other in a rolling race. The braking capabilities of the two are put to the test, too.