Giancarlo Perlas
October 9, 2017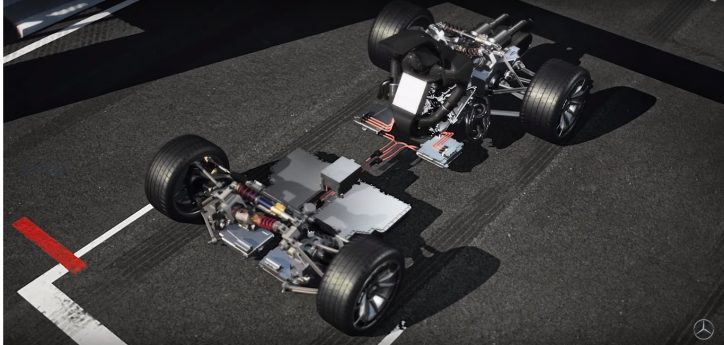 The Mercedes-AMG Project One is definitely a revolutionary car. It is a proof that with dedicated and extensive research, a lot of the technology present in Formula One cars can be transferred into road-legal vehicles.
Recently, the YouTube channel of Mercedes AMG Petronas Motorsport showed how the famous German automaker with three-pointed star logo extensively adopted the technology present in their F1 cars into their new road vehicle. As seen in the video, the engine of the Project One comes straight from the Mercedes Silver Arrows.
Inside the hypercar is the F1 EQ Power+ hybrid unit of the race car. Then, it is matched with the MGU-H electric turbocharger that is further boosted by the MGU-K electric motor. Next, the video takes us to the flat F1-Li-Ion Cell sitting at the middle portion of the car's base, which juices up the electric motors. Moreover, it reveals an electric motor installed in each front wheel. The presentation also gives us a peek at the complex suspension of the Project One.
Lastly, the 1 minute and 27-second clip hypes the performance of the Project One. It says that the efficiency factor of the auto is at 40%. It states too that the system output of the unit is more than 1,000 hp. The electric range of the hypercar is 25 km and it is capable of accelerating from zero to 200 km/h in less than six seconds.
Overall, it is a very straightforward video without any lip service. However, it sure gives us a clear picture and a basic idea of what the Project One is all about.
Click play in the video below to see the amazing transformation of the mighty Mercedes-AMG Project One: