Ryan Joseph Ramos
March 29, 2014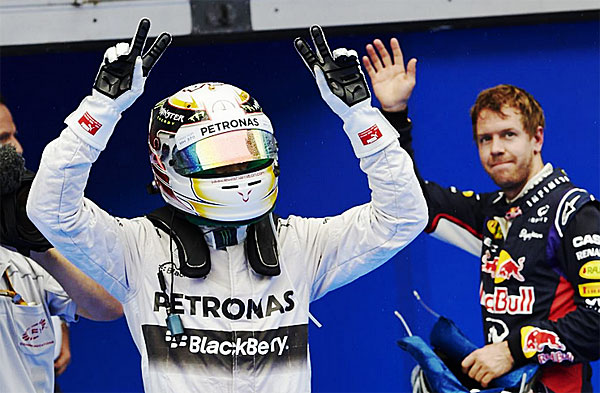 Heading into the Malaysian Grand Prix, Lewis Hamilton was focused on one thing: get his title bid back on track, in order to put the disappointment of what happened at the Australian GP behind him.
He was certainly in top form at the qualifying session, earning his 33rd overall pole position and second out of two races so far this 2014 F1 season. Mercedes teammate Nico Rosberg, who is sitting at the top of the standings after his win in Melbourne, qualified for the third position on the grid.
Despite the variably wet conditions at the Sepang International Circuit, the Mercedes cars — early favorites in this season of transition — were great as far as pace was concerned. Rosberg had the fastest time in Q1, with Hamilton taking the best times in Q2 as well as Q3.
The battle for pole was hard-fought. The Brit driver took P1 on the strength of a 1:59.431 time, but defending champion Sebastian Vettel was right on his tail at 1:59.486. Rosberg's time was 2:00.50, just edging out Fernando Alonso's 2:00.175.
"It was a very close session," said Hamilton. "And I'm relieved to come away with pole position as it was pretty tense towards the end."
So here's the grid picture once the race starts: Hamilton joined by Vettel in the front row, Rosberg and Alonso behind them, followed by the resurgent Daniel Ricciardo at P5, Kimi Raikkonen, Nico Hulkenberg, Kevin Magnussen, Jean-Eric Vergne, and finally, Jenson Button to round out the first ten spots.
In addition to getting back-to-back pole positions, this latest one also put Hamilton in a tie with Jim Clark for most career pole positions. The record has stood since 1968, but many are confident that Hamilton can score at least one more pole sooner rather than later.
Hamilton stressed the importance of staying focused on the race, as scoring good starting spots is nice, but converting them to good finishes is another thing altogether. Here's hoping the Mercedes team suffers no setbacks like Hamilton's shutdown at the opener so we can see how well this team can truly perform.
With the race over a half-day away, we hope you'll join us once we recap the action right here.