Muamer Hodzic
March 28, 2014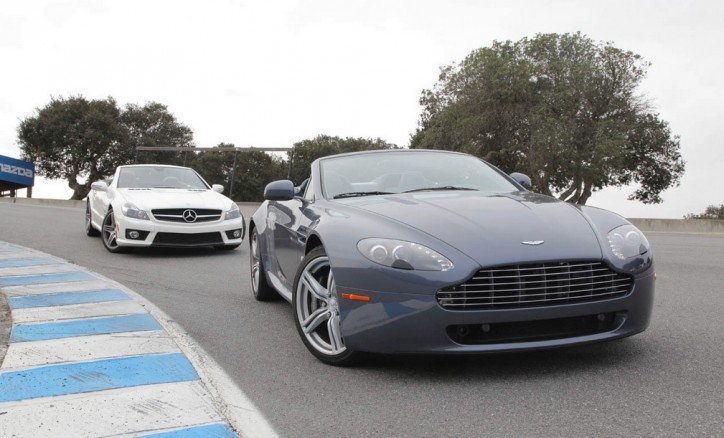 One transnational company buying another should not come as a great surprise as this practice occurs weekly worldwide. However, when this company has a strong British tradition it becomes much more significant. The rumours that Mercedes are set to buy Aston Martin will come as a shock to many who see the manufacturer part of a rich British heritage of cars.
Such takeover could present some exciting new opportunities for Mercedes, as they look to protect themselves in an uncertain motor vehicle future. The news that vehicles are set for technological and ecological evolution is undeniably topical, bringing a long list of new challenges and opportunities for the motor industry.  With Aston Martin stopping the production of the Cygnet model in 2013 due to poor sales, guaranteeing future sales would be of paramount importance. The iconic brand was sold by Ford and has since found itself lacking influential industry friends. If a takeover were to happen, Mercedes would certainly look to lower production costs, potentially moving production to its homeland, enabling the Aston Martin to become more competitive in price.
The current 'Dream Factory' in Gaydon would cease to produce the cars that have shaped a nation.  Models like the Vantage S have proven to be extremely popular with a top speed 15mph higher than the previous model; testimony that the research and development has been effective in the past. This will greatly benefit Mercedes should the deal go ahead, combining the two design teams to enhance both products. However whether this would have a negative impact on Aston Martin cars would need to be assessed in the future.
The potential would even be there for an Aston Martin – Mercedes hybrid car with the high performance of both being combined.  Even so, if these car were to ever be released to the public, car insurance would be worth getting just in case, whether it be from Kwik-Fit, GoCompare or another reputable brand.
Perhaps a car with greener technology could be made, as these will be ever more important as the need for renewable technologies increases. The Mercedes powertrain has also proven to be the strongest so far in Formula One this year, combining energy recovery systems with traditional turbo internal combustion engines. Aston Martin CEO, Dr Ulrich Bez wrote the company into the history books by driving the first ever zero CO2 emissions lap of a race in March 2013 demonstrating their commitment to future technologies. It would appear that both companies have aspects to offer the other in car development.
Were Mercedes to keep the 'Dream Factory' as it has been dubbed in the past, then this could aid them to raise brand awareness in the UK. Whether this would make the investment viable is unknown at present, but it seems this would certainly provide Mercedes a platform to develop from while securing Aston Martin's long-term future.
The primary goal for selling the company would be preservation in an increasingly competitive market place.  With Mercedes bosses refusing to quash rumours this has only added fuel to the speculative fire. Already having a close working relationship between the two companies could aid any potential takeover, making the whole process efficient. Were the merge of the two to lead to a revival of the Lagonda model, the combination of the companies would only be seen as a good thing for enthusiasts.