Giancarlo Perlas
May 23, 2023
In a devastating incident on the M6 motorway in Staffordshire, a Mercedes-AMG One was engulfed in flames during transport. The incident occurred on May 17 at around 5 AM, leaving the high-performance vehicle reduced to ashes. As investigations continue, speculations arise regarding the cause of the fire. With its production marred by delays, this setback adds further complications to the hypercar's journey as it's now one unit less than its 275 limited units.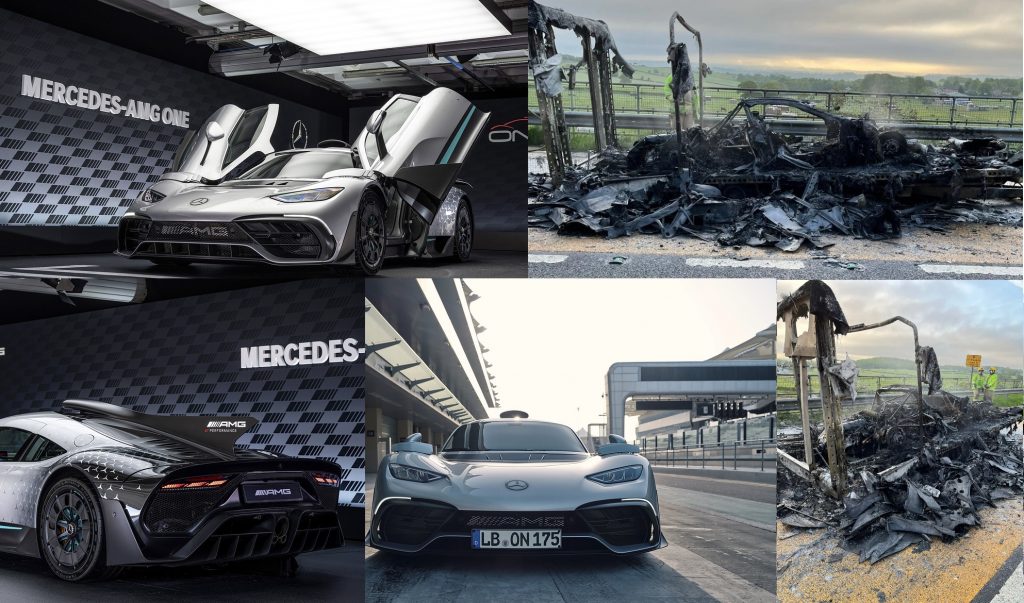 A Long-Awaited Production
After facing several challenges during its development that resulted in years of delay, the AMG One finally entered production in August 2022. The aim was to create only 275 units of this remarkable hypercar. However, before one of its rightful owners could take delivery, tragedy struck as a unit tragically met its fiery demise.
The Cause Remains Unknown
Mercedes revealed that the exact cause of the fire is still being investigated, leaving enthusiasts and experts curious about the chain of events that led to the car's destruction. Initial reports suggest that the battery could have been responsible while other sources claim that the fire might have originated from the brakes of the transporting truck.
Unfortunate Timing and Location
According to the Sun, which also supplied the photos here, the incident took place during the early hours of the morning, as the AMG One was being transported in a closed trailer as part of the assembly process. Despite the prompt response of firefighters, the flames had already consumed the hypercar by the time they arrived.
Fortunately, no one was harmed in the incident. However, the loss of the intricately engineered 1.6-liter V6 hybrid powertrain was significant, so we hope that the owner had insurance for it.
A Complex Assembly Process
The AMG One's highly complex engine, similar to those used in Formula One, is assembled at Mercedes AMG High Performance Powertrains in the UK. The final assembly takes place in Coventry, where Mercedes collaborates with Multimatic.
The completed vehicles undergo rigorous testing at a nearby track to ensure their performance meets the company's standards before their eventual delivery to customers.
Final Thoughts
As Mercedes-AMG One enthusiasts await further updates, the incident serves as a stark reminder of the challenges faced during the development and production of cutting-edge hypercars. The investigation into the cause of the fire remains ongoing, and Mercedes will undoubtedly take measures to prevent such incidents from happening again in the future.