Giancarlo Perlas
June 6, 2018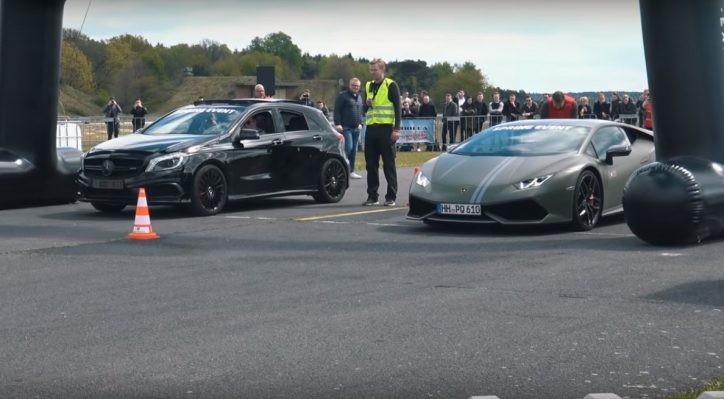 Don't let its size fool you, because beneath the compact body of the Mercedes-AMG A45 is a raging engine worthy of going against other supercars in a drag race. Recently, the high-performance A-Class in various guises was captured going head-to-head against other cars on the race track.
Under the hood of the Mercedes-AMG A45 is a 2.0-liter turbocharged inline-four engine. It is capable of delivering up to 376 hp and 351 lb-ft of torque. Paired to a seven-speed sports transmission, the hatchback can go from 0-62 in just 4.2 seconds.
One of the AMG A45's in the video has Brabus badges in it. That means its engine has been tuned to produce more power than the standard version of the car.
The tuning package was not specified, but Brabus' latest upgrade for the AMG A45 is the PowerXtra package. That package from Brabus provides a boost of 394 hp and 369 lb-ft of torque for the AMG A-Class.
The Mercedes-AMG A45 can be seen racing the BMW M5, Jaguar F-Type, and Lamborghini Huracan, among others. Given the advantages of the other cars in the video, the Mercedes hatch didn't win all the races. However, it is worth noting that it put on quite a fight.
Even on the portions of the video where the AMG A45 lost to the competition, the car was not far back from its rivals. It held its own even versus the Huracan, although the hatch was given a head start there.
Overall, it certainly put on a good show. Watch the video below that shows the Mercedes-AMG A45 in action: