Giancarlo Perlas
April 8, 2018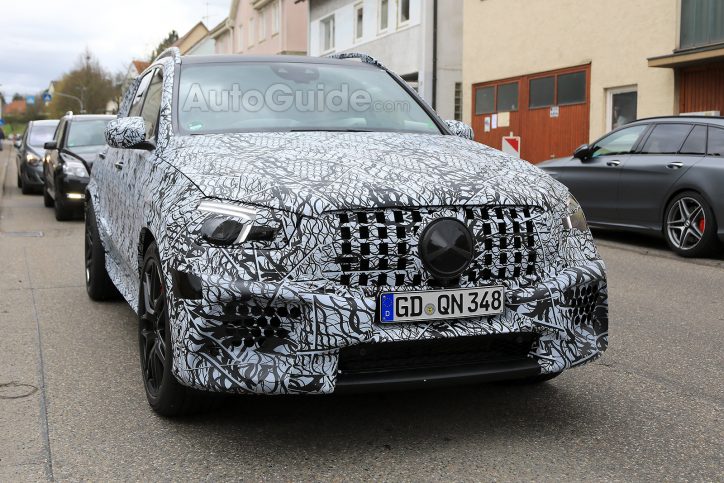 The new Mercedes-AMG GLE63 continues to make its appearance online through a series of spy shots. This time, the upcoming performance sport utility vehicle was spotted up close.
The last time we saw the Mercedes-AMG GLE63, it was being towed by a Mercedes-Benz G-Class after running into some mechanical problems while it was undergoing winter testing in Sweden. However, the new spy shots from AutoGuide show the vehicle having a successful test run in a public road.
The vehicle remains camouflaged in the pictures, but its few exposed parts give away its key features. The most noticeable styling element of the SUV that hints its AMG DNA is its front radiator grille. Similar to the other cars and SUVs of AMG, the auto carries a Panamericana grille design, which showcases vertical slats. Then, zooming into the black-clad centerpiece of the unit's nose exposes bulges that resemble the three-pointed star logo of Mercedes.
Next, the headlamps and tail lamps appear to have Mercedes' Active LED technology. These help maximize the illumination of corners and straightaways, without creating glare for other drivers.
Underneath the bumper is a front lip spoiler. Furthermore, the auto is fitted with massive sports wheels and tires complete with red brake calipers. Going at the back of the vehicle displays its quadruple tailpipes.
Engine
The Mercedes-AMG GLE63 is expected to offer the same engine option available in the E63 sedan model. With that, expect it to have a 4.0-liter biturbo V8. A GLE53 trim is also rumored to get included in the AMG GLE lineup.
Mercedes-AMG GLE63 Spy Photos
Check out the gallery below for the new spy shots of the Mercedes-AMG GLE63: