Giancarlo Perlas
November 10, 2017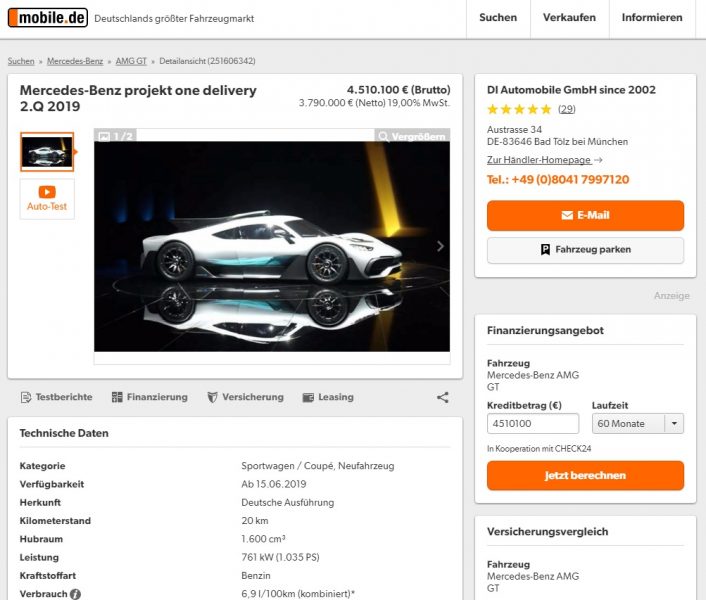 The Mercedes-AMG Project One is by far the pinnacle of the three-pointed star brand's engineering. It had successfully integrated Formula One technology to a road-legal car.
What we have seen at the Frankfurt Motor Show was just a concept version of the hypercar. So, its production model is still under development. However, one entry on a German market site Mobile.de is creating quite a buzz online because it just posted an ad to sell a Mercedes-AMG Project One.
Earlier, Mercedes revealed that the Mercedes-AMG Project One costs €2,275,000. But the seller on the site posted an asking price of €4,510,100 for it. That is more than double than its manufacturer's suggested retail price.
The Mercedes-AMG Project One houses a 1.6-liter turbocharged V6 engine and combined with four electric motors similar to the Silver Arrows F1 race cars. The powertrain of the hypercar allows it to produce at least 1,000 hp and it has a top speed of more than 350 km/h. The estimated acceleration of the vehicle from zero to 200 km/h is just under six seconds.
Again, it should be reminded that the Mercedes-AMG Project One was just released in its concept stage. Therefore, the seller on the ad does not possess the physical unit of the hypercar yet. What the seller owns is just the build slot. However, taking into consideration that the limited units of the F1-inspired car, that will ensure the buyer that he or she will get to own one. AMG said that only 275 units of the auto will be produced, making it very rare.