Giancarlo Perlas
July 4, 2017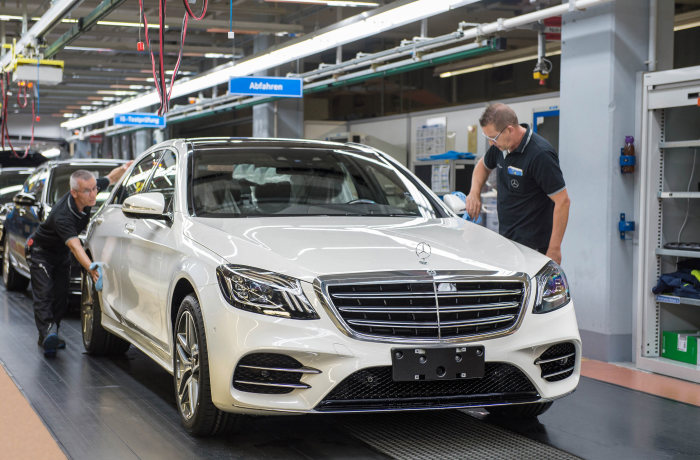 Yesterday, July 3, the production of the new Mercedes-Benz S-Class officially started. The car is being assembled in the Sindelfingen plant of the three-pointed star marque.
Marking the start of the event was the pilot test for the automated driving feature of the range. An obsidian black metallic-painted Mercedes-Benz S560 4MATIC showcased the feature.
The car drove automatically without a driver seating in its cockpit. Onboard cameras, radar and ultrasonic sensors working under a powerful software that enables the S-Class to accelerate and brake autonomously aided the car in reaching its destination. The vehicle went from the final assembly line of the plant to the loading area after driving itself for about 1.5 kilometers.
The S560 is a huge leap to Mercedes' vision of producing fully-autonomous cars. It is equipped with the more advanced version of Intelligent Drive, Active Distance Assist DISTRONIC and Active Steer Assist.
The new Mercedes-Benz S-Class is a facelift of its sixth-generation model. It was launched at the 2017 Auto Shanghai motor show. The car went on sale last May.
The new S-Class is available in various trims namely the S350d 4MATIC, S400 4MATIC, S560 4MATIC and the Mercedes-AMG S63 4MATIC. It is offered in long-wheelbase and Mercedes-Maybach models too. Daimler revealed that a plug-in hybrid model will join the range in the future.
The plug-in hybrid S-Class will have an electric range of around 50 kilometers. It is also highlighted by its 48-volt Integrated Starter Generator (ISG) and electric booster compressor (eZV).
Mercedes-Benz S560 Self-Driving Feature
Check out the demo of the driverless Mercedes-Benz S560 in the video below: