Giancarlo Perlas
January 2, 2015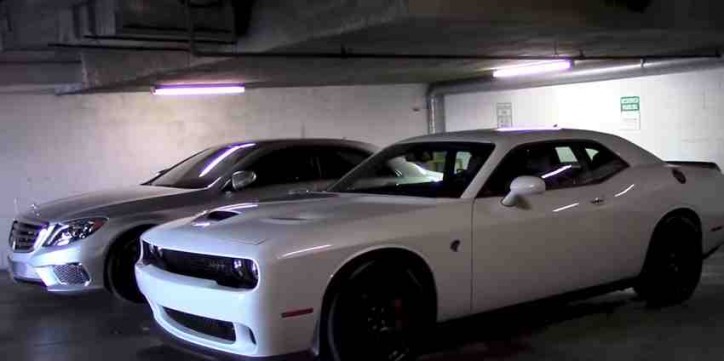 Which one will win in a screaming contest between the latest Mercedes S65 AMG and the Dodge Challenger SRT Hellcat? Today, we pit German car engineering against American car engineering.
Last week, a video was uploaded in YouTube featuring the two cars, which was taken in a garage in Malibu. The performance cars were side-by-side as their pedals were put to the metal to determine which one has the better engine noise.
Mercedes S65 AMG Vs Challenger Hellcat Tale of the Tape
The Mercedes S65 AMG carries a biturbo V12 under its hood while the Challenger Hellcat has a supercharged V8 engine. Based from the figures provided by Car and Driver, the output of the two differ by nearly a hundred horsepower with the Merc having 621 hp and the Dodge with 707 hp. The car from the three-pointed star marque has a higher torque with 738 lb-ft as opposed to the other's 650 lb-ft. The sprint of each car from zero to 60 mph only differ by 0.1 second with the Hellcat having 3.6 seconds and the other with 3.7 seconds.
Ready, Set, Rev
Looking at the numbers above, it is a close match between the Mercedes S65 AMG Vs Challenger Hellcat when it comes to engine power. Now, the video below shows what happens when you pit the two against each other in a revving battle:
As observed in the video, both cars were amazing in terms of engine sound produced, so it is really hard to decide which one is better. However, if you want a more brute and louder noise, the SRT Hellcat is definitely a good pick. On the other hand, if you are into a sexier noise, the S65 AMG is your best bet.