Giancarlo Perlas
January 1, 2015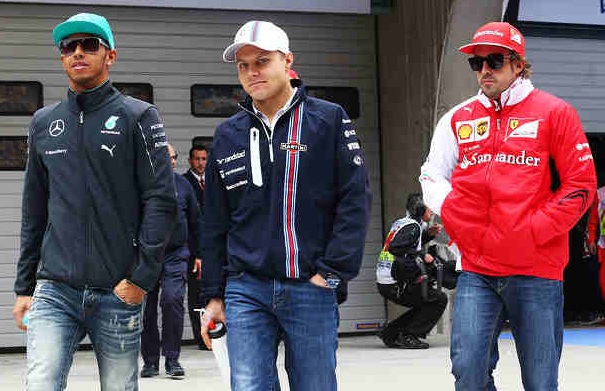 A report suggested that Fernando Alonso and Valtterri Bottas have been singled out by Mercedes-AMG Petronas as possible fall backs if the negotiation between the Formula One racing team and Lewis Hamilton fails to materialize.
According to Autosport.com, the discussion about the contract renewal of Hamilton has been put on hold temporarily in the 2014 season. The team reasoned out that they did not want to get the issue in the way while their drivers battled for the World Championship in the year that just ended. It should be noted that Hamilton reigned as the World Champion in 2014 after raking a total of 384 points in the season, and Nico Rosberg earned the runner-up spot with 317 points.
Niki Lauda earlier dismissed reports that Alonso was being eyed by Mercedes as an alternative to Hamilton. However, with the explanation of Mercedes that they wanted its drivers to focus on the title last year, his denial made sense.
Citing an article from Gazzetta dello Sport, Toto Wolff confirmed Alonso is indeed the top choice of the team in the event that Hamilton will not renew his contract at the end of 2015. Another name that popped up during the interview of the motorsport boss of Mercedes was Bottas, if the Spaniard racer refused.
Based from the overall F1 drivers' standings in 2014, Bottas finished fourth in the season with 186 points. It should be mentioned that he even toppled Sebastian Vettel in the rankings with the 2013 World Champion falling behind the Williams driver by 19 points.
Alonso was plagued by performance issues in his Ferrari car last season, which caused him to get only the sixth place in the overall F1 drivers' rankings in 2014 with only 161 points. This 2015 season, he will be racing under the banner of his former team McLaren.