Peter Parcon
November 6, 2014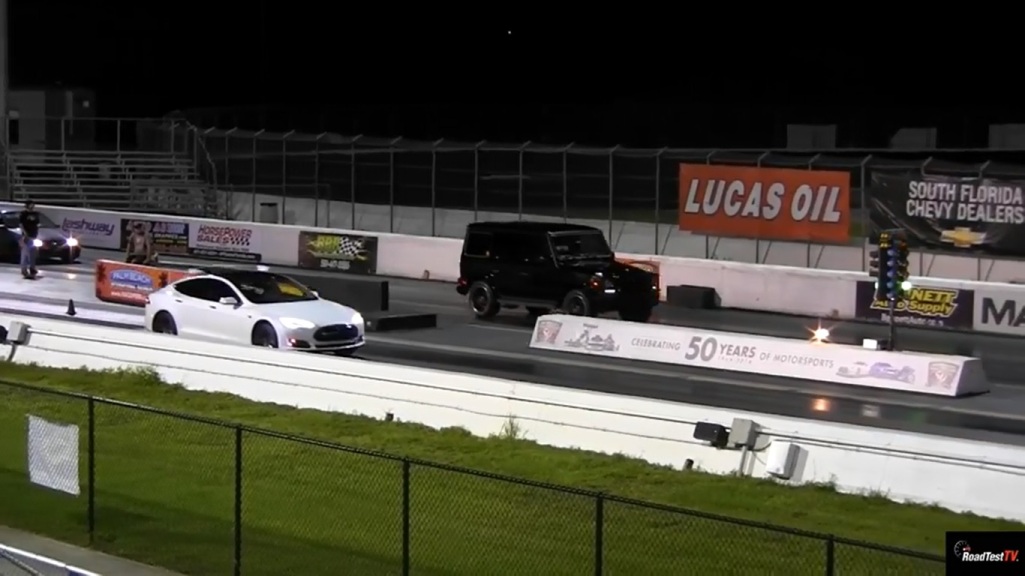 A Mercedes-Benz G63 AMG was pitted against a Tesla Model S recently, according to a report on autoevolution.com. A video showed the race between two different vehicles with a wide gap in terms of power output. The G63 AMG features a 5.5-liter twin-turbo V8 engine with a power output of 536HP while the Model S, which is powered by an 85 kWh battery, offers a 470HP power output.
While engine sounds normally give some indications on the power offered by internal combustion engine vehicles, the Model S did not make much noise when compared to the G63. Despite this disparity in engine sound, the V8 engine of the G-Class appears to have an advantage in this contest.
The engine voice of the Mercedes-Benz G63 AMG filled the drag strip with an awesome spectacle of aural power. This is not surprising since the G-Class has always been the apple of the eyes among people at Affalterbach, and gave it an extra roar when compared to the other AMG models.
The race ended with the G63 speeding up to 106 mph while the Model S was able to muster 98 mph in the entire race. Despite being entertaining, industry watchers are looking forward to seeing the Model P85D on the race track. This latest offering of Tesla features an engine in the rear while adding a second one in front. Due to this, the power output has increased by 47 percent as it hits 691HP. Seeing the Model P85D on the drag strip may not happen soon, but it would definitely worth the wait for industry watchers when this will happen.
On the other hand, the race between the Mercedes-Benz G63 AMG and the Tesla Model S was tight, and it will be necessary to watch the video to see the result.