Giancarlo Perlas
May 18, 2023
Electric vehicles have taken the automotive industry by storm, offering exhilarating performance and eco-friendly driving experiences. In a battle for supremacy among electric sedans, renowned YouTube channel CarWow recently organized an electrifying drag race, pitting three powerhouses against each other: the Porsche Taycan Turbo S, BMW i7 50, and our beloved Mercedes-AMG EQS 53.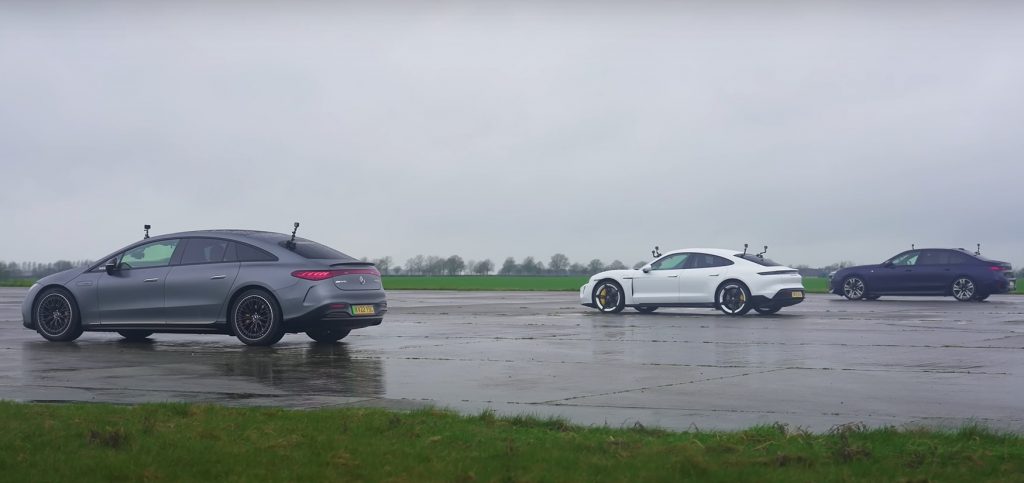 Here's a quick look at each car before we dive into the thrilling contest that ensued on the tarmac:
Porsche Taycan Turbo S
The Porsche Taycan Turbo S was the first to hit the market and set the benchmark for performance among the three. Equipped with two electric motors, it delivers a staggering 750 horsepower and an impressive 774 lb-ft of torque. Its lightning-quick acceleration and precise handling have earned it a place among the top contenders.
BMW i7 50
The BMW i7 50 is definitely at a power disadvantage in the bunch. With 544 horsepower and 550 lb-ft of torque, it trailed behind its adversaries in sheer power. It's worth noting though that the i7 M60 variant boasts a more potent 650 horsepower, which should've made a more formidable challenger to the dominance of the Porsche.
Mercedes-AMG EQS 53
The Mercedes-AMG EQS 53 seats in the middle of the participants in terms of performance figures. With its 649 horsepower and 700 lb-ft of torque, the AMG EQS 53 aimed to rival the formidable Porsche Taycan Turbo S. The vehicle tested featured a performance pack that unleashed 750 horsepower and 752 lb-ft of torque during overboost, intensifying the competition.
The Drag Race Result
When the signal lights turned green, the Mercedes-AMG EQS 53 demonstrated impressive initial acceleration, but the Porsche Taycan Turbo S quickly caught up, thanks in part to its lighter weight. The BMW i7 50, facing a significant power deficit, struggled to keep pace.
As the quarter-mile concluded, the Porsche emerged victorious with a time of 11.4 seconds, narrowly beating the Mercedes' time of 11.5 seconds. The BMW crossed the finish line in 12.7 seconds, acknowledging its lower power output.