Giancarlo Perlas
March 12, 2023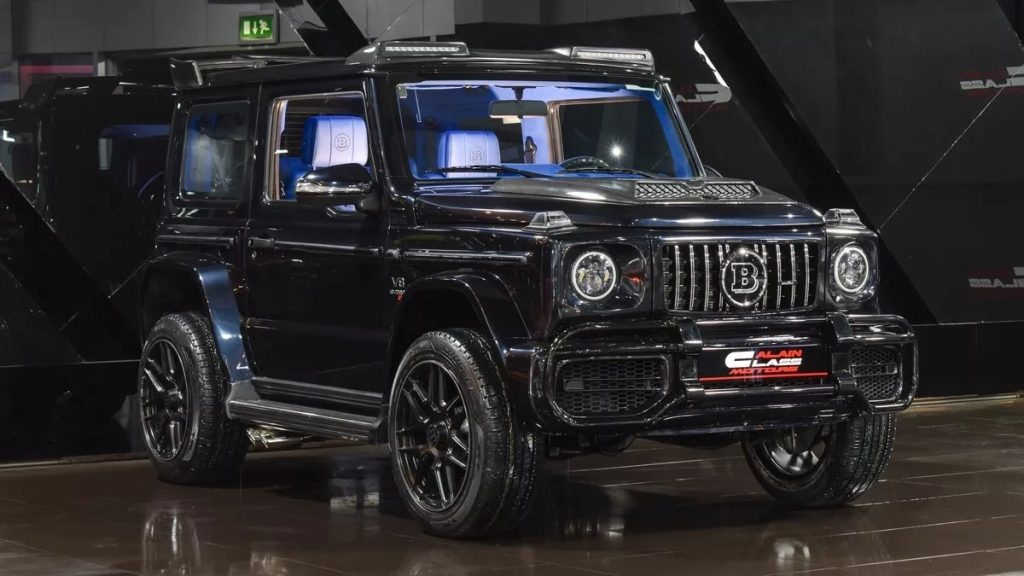 The Suzuki Jimny is no stranger to modifications and one of the most popular builds of the auto is the Baby G-Class build. Recently, another one of these was spotted in Dubai, which is currently on sale by Al Ain Class Motors.
It's A Brabus G800 Rip-Off
This particular Jimny does not just shamelessly copy the G-Wagen, it also benefits from a Brabus-inspired body kit. The vehicle even has the "B" logo on its Panamericana-designed front grille, "Brabus" brandings all over, and an "800" badge as a callback to the Brabus G800 tuning package.
Whether or not this is a genuine body kit sourced from the famous German tuner is not known. However, the fact that it does not exhibit the signature finesse and quality control of Brabus in the upgrades makes us strongly believe that everything is just a copy.
In addition to the parts and accessories mentioned, the excessive customizations include large air intakes, a hood scoop, extended wheel arches, dual LED lights on the roof, a rear roof spoiler, twin-exhaust tips on each side, and a set of twin-spoke wheels. For short, they're just about the things you can find in the signature widebody kit of the Mercedes tuner.
The makeover even extends into the cabin. The seats, lower dashboard, transmission tunnel, door panels, and steering wheel center are all upholstered in brilliant blue leather. Moreover, the other elements of the cabin are padded in blue Alcantara with diamond-pattern stitching while a starlight headliner adorns its ceiling.
Despite the mentioned "800" badge emblazoned at the back of the Jimny, it does not appear to possess any mechanical alterations.
The Asking Price
According to a report, the asking price of this particular "Baby G-Class" Suzuki Jimny is 165,000 AED (around $44,921 at present rates). That's just about the starting price of the new C-Class sedan or GLC SUV in the US and more than double the basic price of a brand-new Jimny in the UAE.