Giancarlo Perlas
March 29, 2023
Mercedes-Benz has been busy preparing for the upcoming facelift of its E-Class sedan, wagon, and All-Terrain models. Recently, the standard sedan variant of the range was seen on the road again with minor camouflage. The new spy video shows us what we can expect from the auto when it comes out sometime this year.
Variants in the Video
The video from walkoARTvideos reveals three trims of the E-Class sedan. Two of them appear to have an electrified powertrain as hinted on the stickers on their front doors. Meanwhile, the other provides us with a glimpse of the conventional, non-electric version of the car.
Design Updates
The thing that the prototypes have in common is the placement of their zebra camouflage coverings in front and at the back, which indicate where the key updates will take place. Given these details, expect the car to receive a new set of LED strips on top of its headlights, similar to the configuration of the EQC. Then, the thick wrapping on the tail lights indicates that changes are on the way there, too.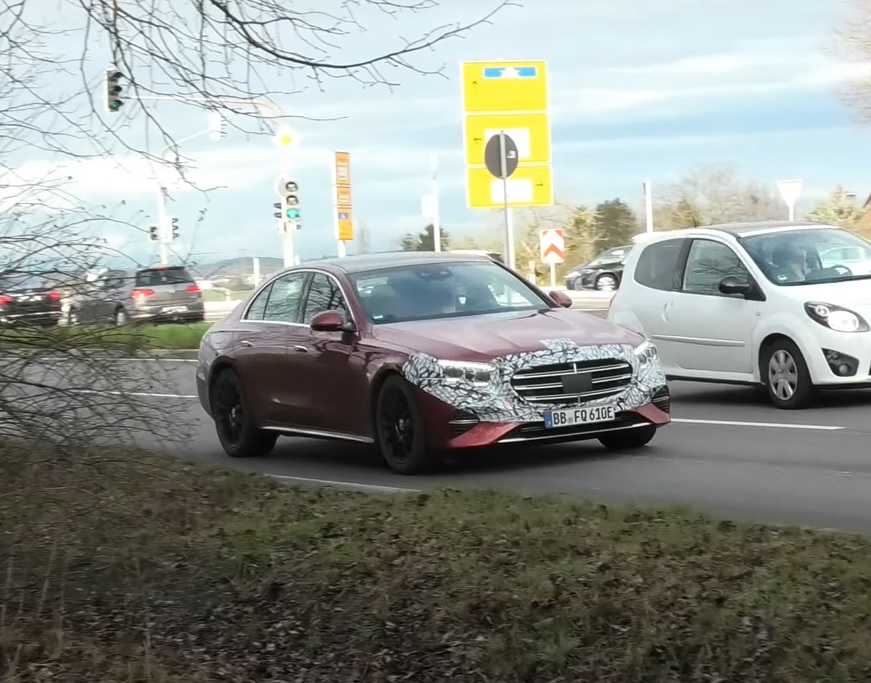 Another fact worth noting with two of the three spied prototypes is that their intakes on the sides of the front bumpers appear to have been sealed off. Of the two, one still has twin exhaust tips while the other has none. All these point to the plug-in hybrid and all-electric versions of the auto.
In addition, the video shows that the door handles of the prototype are flush with the surface, hinting at the possibility of seeing pop-out door handles on the upcoming E-Class mid-cycle update, similar to those found in the flagship range of Mercedes, the S-Class.
Major Overhaul in the Cockpit
While the changes in the body surfaces are minor, the facelifted E-Class will almost certainly receive a major revamp in the cockpit. Although the cabins of the vehicles are not visible in the video, expect the refreshed E-Class to borrow EQE-like styling and technology for its infotainment hardware and software, pedals, and multi-function steering wheel, among others.
Market Rollout
The updated Mercedes-Benz E-Class is expected to make its world premiere sometime this year. It will be sold with a 2024 model-year badge when it rolls out in dealerships.