Giancarlo Perlas
March 28, 2023
Different trims of the next-generation Mercedes-Benz E-Class (S214) were recently spied on the road. Although the prototypes are draped in zebra-patterned camo, we can still spot some provocative hints of what's in store for the next generation. And as a bonus, we even catch a glimpse of the rugged and off-road E-Class All-Terrain version.
The camo makes it tricky to discern the exact features of these beauties, but we're pretty sure they're E-Class prototypes, particularly the Estate variant, given their similar dimensions and shape to the outgoing model. And let's talk about that sporty, aggressive E-Class Estate that really caught our attention in the clip from walkoARTvideos.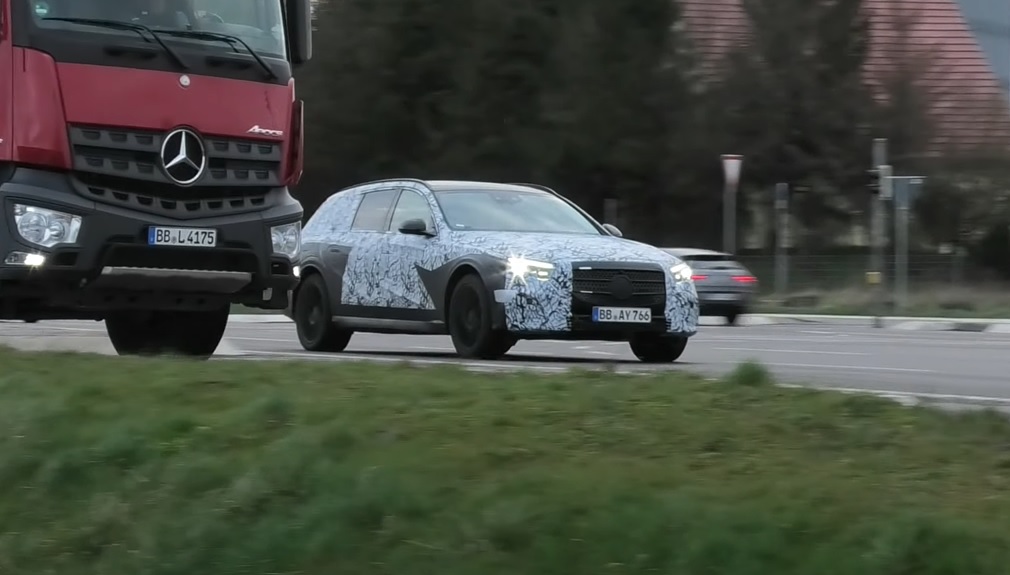 With its beefed-up ground clearance, oversized wheels, and chunky tires, this baby seems to be ready to take on any terrain. All these, plus the partially extended fenders, confirm that what we are witnessing here is the E-Class All-Terrain. Meanwhile, the horizontal dual-louver front grille design bulging from the wraps suggests that this ride is delegated as a true-blue member of the Benz family.
So far, Mercedes is mum about the specs of the next E-Class All-Terrain. Based on the information we have about the E-Class though, it will be riding on its maker's MRA platform, similar to the one used by the latest C-Class and S-Class. This will let the car support a mild-hybrid configuration for its revised powertrain.
According to sources, the next-gen E-Class will no longer have a six-cylinder unit for its high-performance variants. Therefore, it's possible that the All-Terrain model will just settle for the inline-four unit partnered with an electric motor for an extra kick.
The present version of the Mercedes-Benz E-Class All-Terrain in the US boasts 362 hp. With the new model due this year, we might see more numbers in its output.