Giancarlo Perlas
August 21, 2021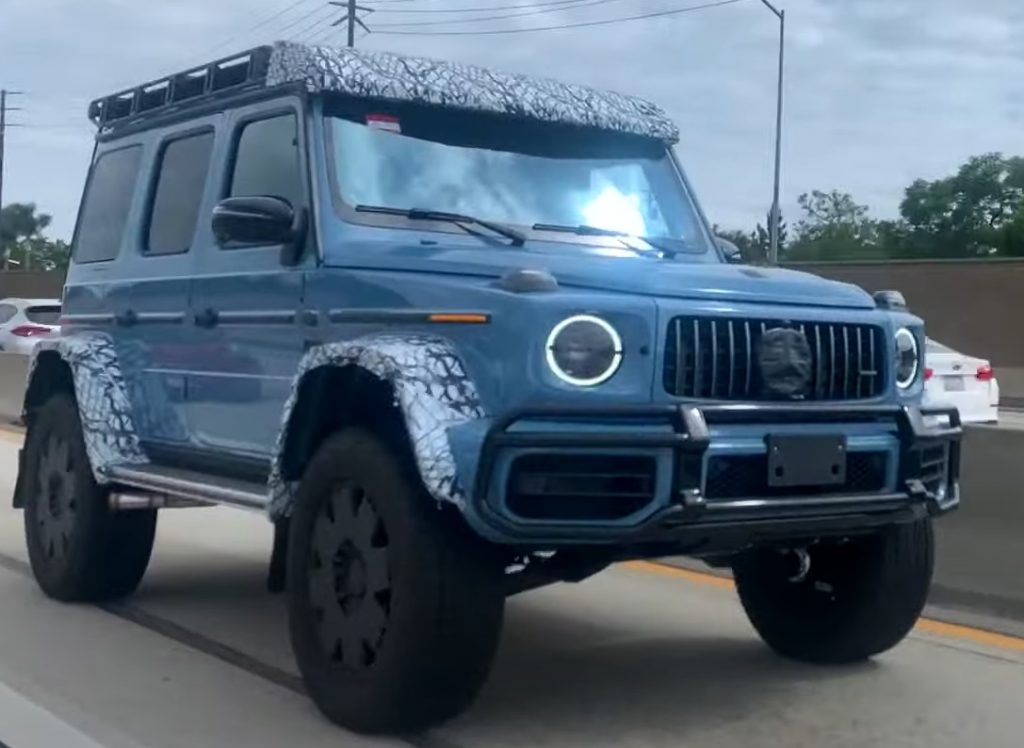 The mysterious Mercedes-Benz G-Class 4×4 Squared makes its appearance again in a spy video. Unlike the previous spy shots, the unit here appears to be an AMG variant.
The G-Class in the video is riding on large wheels with an elevated suspension similar to the earlier 4×4 Squared. Visible in the shot is its portal axle with control arms in front. It also sports extended wheel arches, roof lights, spare wheel cover, and rear roof spoiler hidden beneath zebra-camouflaged wraps. Already visible on the prototype is its roof rack and rear-mounted ladder.
What's more interesting about this one compared to the previous sightings is its front grille with vertical slats following a Panamericana design, which confirms its AMG identity. Furthermore, an exhaust pipe on each side under the stepping boards can be seen too.
Official details about the AMG G-Class 4×4 Squared are not available at the moment, but if it is indeed from Merc's high-performance division, the SUV will probably get a 4.0-liter twin-turbo V8 with its output going as much as 577 hp and 627 lb-ft of torque under a G63 badge.
The standard Benz version of the AMG G-Class 4×4 Squared will likely make its world premiere after the Munich Auto Show since the event is already packed with the likes of the officially teased Mercedes-Benz EQE and the recently unveiled Mercedes-Benz C-Class All-Terrain as well as the rumored Mercedes-AMG EQS and Mercedes-Maybach EQS SUV.
The road test video of the Mercedes-AMG G-Class 4×4 Squared was taken in California, which is good news to U.S. buyers who are looking to order the new variation of the iconic SUV when it comes out.