Giancarlo Perlas
July 30, 2020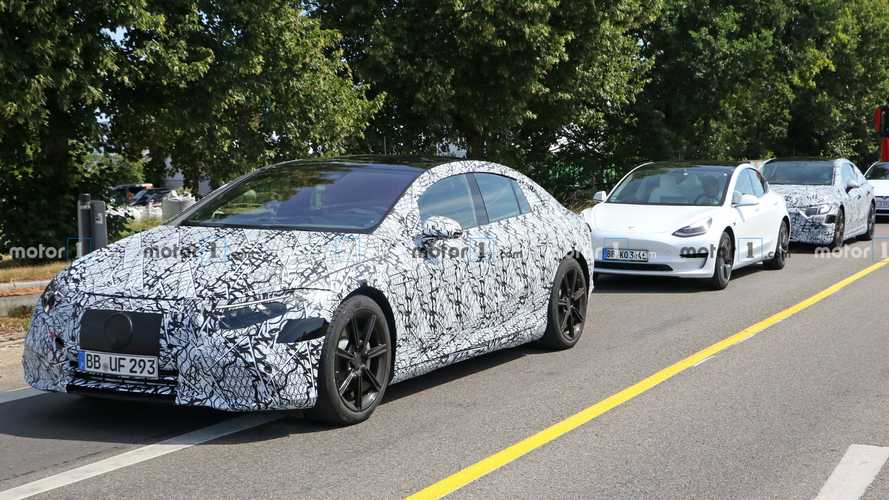 The upcoming Mercedes-Benz EQS is a very promising electric vehicle from the three-pointed star marque because it is hyped to carry the same level of luxury and tech possessed by its flagship car, the S-Class. Recently, a prototype of the product was spied again, but this time, it is riding with two Tesla EVs.
The production version of the EQS does not stray far from its concept form, and it is expected to incorporate many design elements found in the S-Class. Compared to its petrol-fed counterpart though, the EV has a shorter and sexier snout, thanks to its lack of a conventional engine. Its outline also hints that it will keep its liftback profile similar to the concept version, and its longer greenhouse suggests more legroom at the rear passenger area.
So what is it doing with the Tesla Model S and Model 3 in the new spy shots by Motor1? Most likely recognizing that the said EVs will be the direct rivals of the EQS in the market, it looks like the Mercedes engineers are using them as benchmarks.
Earlier, details about a recent shareholder meeting of Daimler was leaked. One of the topics was the confirmation of CEO Ola Kallenius about the electric range of the EQS. The Daimler boss claimed that it will have a 700 km WLTP range. If Mercedes does reach that milestone, then its flagship EV is set to surpass the full-charge range of the Models S by around 100 km.
The new Mercedes-Benz S-Class is set to debut this September so there is a huge possibility that the German automaker will follow up its momentum with the unveiling of the Mercedes-Benz EQS in the latter part of 2020.