Giancarlo Perlas
July 30, 2020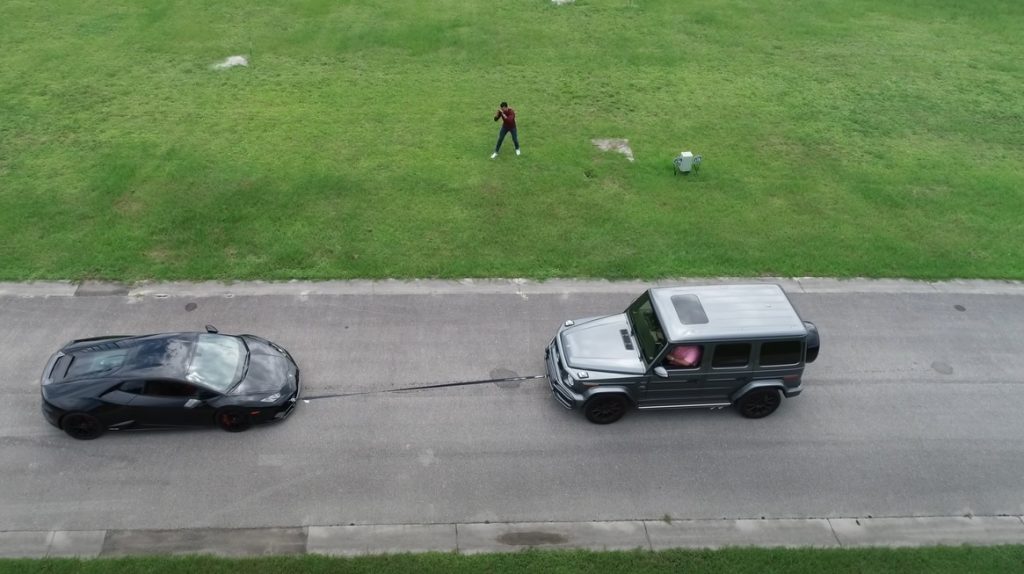 The Mercedes-Benz G-Class is a very imposing and very resilient sport utility vehicle because of its military-inspired roots. Now, throw in an AMG engine under its hood and you squeeze more power out of it in the form of the Mercedes-AMG G63.
So what happens if you pit it against the Tesla Model X, Lamborghini Huracan, and Land Rover Range Rover? The SUV is certainly going to put on a good fight against the likes of the Range Rover and Model X in a drag race, but it's definitely eating dust if it goes against the Lamborghini. Then again, instead of a race, it's taking each of them in a tug of war.
The AMG G63 is equipped with a 4.0-liter twin-turbo V8 engine that boasts 577 hp and 627 lb-ft of torque. With a gross weight of more than 7,000 lbs, and a towing capacity of 6,500 lbs, the high-performance version of the iconic Mercedes SUV is the likely winner here. You don't even have to crunch the numbers to determine which one will be the victor because the towering looks of the G-Class compared to its rivals already says a lot.
Just to humor everyone, here's the video showing how the AMG G63 dominated its rivals. Since we know the results by now, the only thing worth at looking here is which one of the vehicles will put on quite a resistance against the Merc. Spoiler alert: It's surely not the Lamborghini.