Giancarlo Perlas
September 30, 2018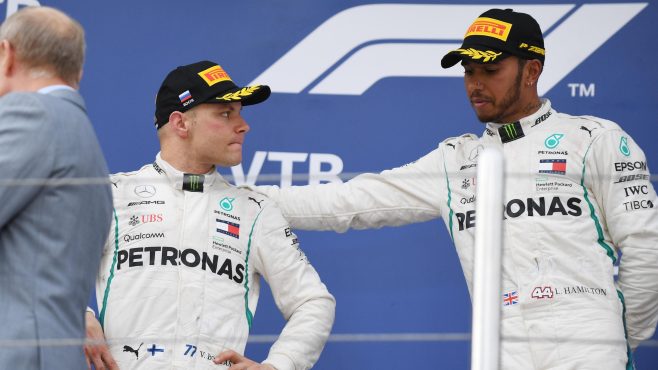 Lewis Hamilton grabs another victory while extending his lead in the Driver Standings. The win came after team orders were given.
The conclusion of the Formula One Russian Grand Prix saw Hamilton crossing the chequered flag first followed by Bottas. Ferrari's Sebastian Vettel emerged third while his teammate Kimi Raikkonen finished fourth. Both Red Bull drivers grabbed the fifth and sixth positions respectively with Max Verstappen and Daniel Ricciardo.
The triumphant Hamilton increases the gap between him and Vettel by 50 points. Meanwhile, Bottas climbs in the standings at the third rank with 189 points, overtaking Raikkonen by 3 points.
The big win of Hamilton can be attributed to Bottas. With a lot of pressure behind him, Bottas appeared to control the race from pole position. Along the way though, he was instructed to let Hamilton past to protect him from Vettel.
There were a series of team orders during the race but the crucial instruction came on lap 25 when Bottas was told to allow Hamilton to overtake him at Turn 13, which he executed. From then on, he held on to the position while putting Vettel in check.
Hamilton, the eventual winner, recognized the efforts of his teammate in his victory interview.
"Valtteri did a fantastic job all weekend and he was a real gentleman to let me by. He's now not fighting for the championship as where we are. It's just been such a great weekend for the team. The team have done such exceptional job to have this advantage on Ferrari and have a one-two. Usually, you'd just be elated, but I can understand how difficult it was for Valtteri," the Briton said.
"But really, he did a fantastic job today and deserved to win. But championship-wise, as a team, we're trying to win both championships, and today, it was a real team effort," Hamilton praised Bottas.