Giancarlo Perlas
August 15, 2018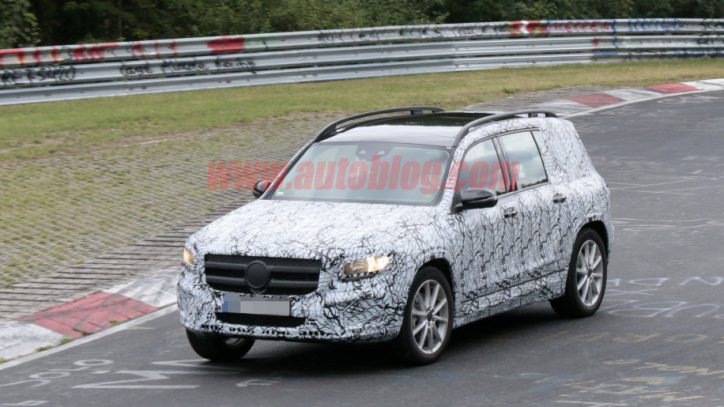 The Mercedes-Benz GLB is almost ready for next year. The crossover utility vehicle (CUV) was recently caught on cam while undergoing testing at the Nurburgring track in Nürburg, Rhineland-Palatinate, Germany.
The new images of the GLB featured in Autoblog still show the crossover in a heavy zebra camouflage just like in our previous spy shots and video. However, there are noticeably developments on the prototype's exterior compared to its older version.
Design
The GLB is gradually taking its final form with its more defined front. The auto now sports the present twin-horizontal bar styling of other Mercedes-Benz SUVs on its radiator grille. The bars, including the center where the logo of the vehicle is positioned, are still hidden in black vinyl wraps but it is clear that what we are looking at is a Mercedes because of its strong similarity with the GLA's design. The prototype is also equipped with bars on the roof.
The shape of the GLB is reminiscent of the GLK too, except its shorter and sharper nose. That's despite the crossover's nomenclature suggesting that it is related to the B-Class.
Seating Capacity
Some claim that the GLB will offer three rows of seats to accommodate up to seven people. However, a close evaluation of the new spy shots indicates that going for that direction will make the interior of the vehicle cramped. Then again, it should be reminded that there are rumors as well that the crossover will have a long-wheelbase version. That's probably the unit receiving the seven-seating configuration.
Engine
There are no hints yet about the engine specs of the GLB but it should share the same powertrains offered by the GLA. After all, both are reportedly riding on the next-generation MFA platform.