Giancarlo Perlas
August 18, 2018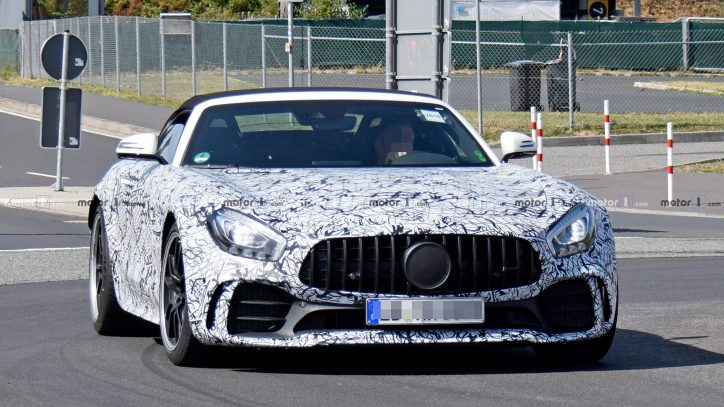 New spy shots reveal that the range-topping Mercedes-AMG GT R is getting a roadster model. The sports car is an addition to the ever-growing lineup of the Mercedes-AMG GT range that includes the GT Coupe, GT Roadster, GT C Coupe, GT C Roadster, GT S Coupe and GT R Coupe. The list does not even count the race cars, GT3 and GT4, that sprouted from the range.
The spy shots of Motor1 show the Mercedes-AMG GT R Roadster mostly covered in zebra camouflage. However, the overall shape, bulges and exposed areas of the roadster indicate that it bears a strong resemblance with the existing GT R Coupe. The only major changes in the spied prototype can be seen on its fixed rear wing and convertible roof.
The engine of the Mercedes-AMG GT R Roadster will likely possess the same power configuration found in its coupe counterpart. With that, it will have a 4.0-liter biturbo V8 unit under its hood with 585 hp and 516 lb-ft of torque. The numbers should be enough to propel the convertible from 0-62 mph in only 3.6 seconds.
The Mercedes-AMG GT R Roadster is expected to be unveiled sometime next year. It should come with a 2020 model year badge.
It should be noted that AMG is also rumored to be working on a GT R Black Series model. We are yet to uncover more details about the speculations though.
Mercedes-AMG GT R Roadster Spy Shots
Check out the spy shots of the upcoming Mercedes-AMG GT R Roadster in the gallery below: