Giancarlo Perlas
June 26, 2017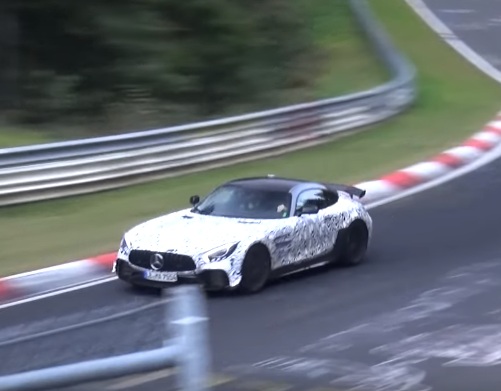 A meaner version of the Mercedes-AMG GT was recently caught in a spy video while it was ongoing testing at the Nurburgring, Nordschleife. The car is believed to be the Mercedes-AMG GT R Black Series.
It is barely three years since the Mercedes-AMG GT came out. Due to the fact that the sports car is the predecessor of the Mercedes-Benz SLS AMG which received a Black Series version, auto enthusiasts have been expecting the AMG GT to get the same treatment.
The AMG GT has spawned a lot of variants, including the upcoming four-door model. Therefore, most people are led to believe that what's left is just the Black Series of the range.
Currently, the AMG GT R is the most powerful existing model of the SLS AMG successor. So when the video here surfaced online, which showed a fully-camouflaged prototype too similar with the car, fans and automotive experts were quick to speculate that we might be looking at the Mercedes-AMG GT R Black Series.
The video displays a variant of the AMG GT R with huge rear wing, bigger air intakes, extended fenders and more prominent aerodynamic elements. Observing the vehicle rip through the endurance track suggests that it might possess more than the massive 577 hp of the GT R as well.
It should be noted that the video indicates the car carries a 2018 model year. However, most reliable sources agree that the Mercedes-AMG GT R Black Series might not come until next year. Thus, the vehicle will possibly be tagged as a 2019 model.
Video
Click play to watch the rumored Mercedes-AMG GT R Black Series in action: