Giancarlo Perlas
July 4, 2018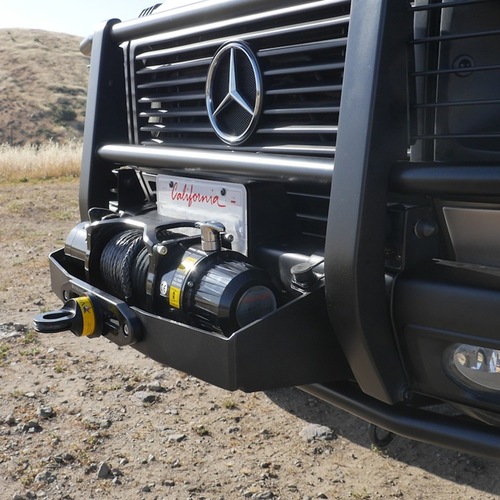 Some of you might be wondering what is a winch? And do you really need one for your Mercedes G-Class?
You may have heard a lot about winches and their pros from your adventurous friends who travel a lot off-road and on trails. So here's a brief discussion about winches, their uses, and why they are important.
What is a Winch?
In simple terminology, a winch is a lifting or hauling device on which a chain or rope is winded around crank of a wheel or axle. It is basically a device which is used to 'pull in' anything using a rope or wire-cable. The simplest form of the winch is made up of a hand crank attached to a spool.
Winches are generally used on towing vehicles but it is used in simple cars as well. Apart from helping in towing, a winch has many other uses and some of which are explained below.
Uses of a Winch
A winch is a very important tool for your vehicle especially if you are traveling a lot, or are living in a rural area. With the help of a winch, you will be able to move smoothly on slopes as well as being able to tow other vehicles or pull them out from a mud trap or a pothole. You can also use it for pulling your firewood, for tightening a cable or fence wire and in construction as well. It can aid you in dragging heavy loads and pulling things across slippery slopes.
Apart from this, Living in a rural area and driving a vehicle there can be tricky sometimes. There's always a probability of getting stuck in some kind of mud trap or a pothole when you drive off-road. Also because the condition of some countryside roads is not as good as it may be where you live. Unfortunately, if by any chance you got stuck in such situation then your winch will be your only friend that will get you out.
A winch can help you pull out your vehicle from any hole.  Offroading is an everyday routine in rural areas because gathering firewood can take you deep into the woods and in such tricky terrain; a winch is your best companion as it can pull you out from almost everywhere.
Why are Winches Important?
A winch is an essential part of every type of 4X4 off-roading vehicle let it be a truck, pickup, or SUV. Having a winch is a guarantee that if by any chance you get stuck in a tricky situation you can come out as it will help you in pulling yourself out. Winches also help you in extreme driving. They help you to move across steep inclines, getting off a tight spot etc.
A winch can be mounted at the rear or on the front.  Besides being extremely helpful, a winch like the Warn winch looks extremely stylish as well when mounted on the front of your off-roader.
The investment made on putting a winch on your off-roader is paid off quite easily whenever you get stuck somewhere and your winch is the one that gets you out. As said by some off-roading enthusiast "a four-wheeler can get you into trouble but a winch will get you out".
We all are familiar with the fact that off-roading is very adventurous, it can be highly unpredictable and dangerous at times. Considering the functionality, utility and advantages a winch is a piece of safety gear that every off-roader should install on its off-roading vehicle. Otherwise, you can be stuck alone in some remote area without being able to move or to get any kind of help.