Giancarlo Perlas
July 4, 2018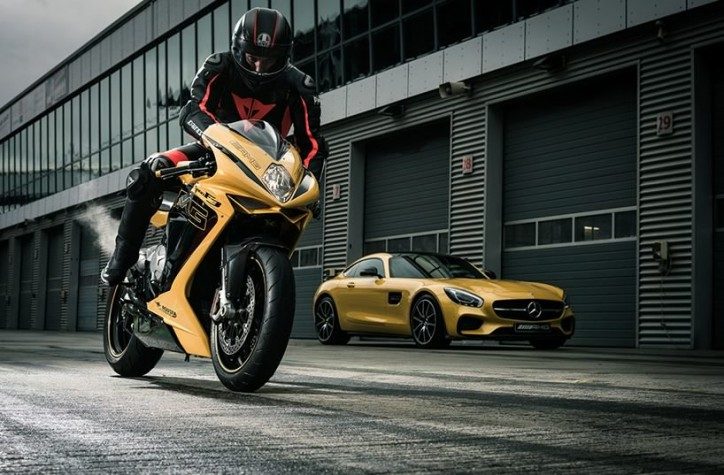 People often consider riding a motorcycle as a daily commuter but end up buying a car instead. Sure you may not be able to fit a family on a bike or fit groceries worth of a whole shopping cart in the boot. However, there are plenty of benefits of a bike for a person who doesn't have to pick up and drop kids at school. Riding a motorbike like the MV Agusta F3 800 Solar Beam is more than just being full of fun, excitement, and thrill.
In the busy city traffic routines riding a motorbike is a blessing in disguise, you can easily avoid long traffic jams and enjoy the open air. Most importantly, don't forget that owning a motorbike makes your style statement; you look cool and adventurous.
Here are some of the top reasons why you should ride a motorbike:
Riding a Motorbike makes you look cool.
We all know that whenever we see a motorcyclist riding a motorbike in full gear an impression is set in our mind already and we start thinking that he's soo cool, adventurous and fun loving. Leather jackets worn by motorcyclists are probably one of the coolest and smartest attire we get to see on roads.
Moving around becomes easier.
Motorcycles are one of the easiest and convenient types of everyday vehicle. If you live in a city or a big town with traffic lanes then riding a bike will make you avoid traffic jams and you can reach work sooner and tension free. On the other hand, you can easily avoid traffic by taking the carpool lanes this means you can easily get anywhere quickly without worrying about the traffic scenario.
You get to save tons of dollars.
Unlike cars, motorcycles are usually fuel efficient according to different surveys the mileage of an average motorbike is about 50mpg at least. By owning a car you can never achieve the 50mpg average, this is probably one of the top reasons why teenagers prefer motorbikes as it gets within their budget range. Apart from this, maintaining a motorbike is a lot cheaper and affordable than maintaining a car. You can easily maintain your motorbike by visiting places like Honda parts house; which are not only affordable but provide top quality services as well.
Your health is improved.
Riding a motorbike requires a lot of balance and strength. When you start riding a motorbike regularly your core muscles are strengthened as well as your body coordination gets improved considerably. Plus you burn twice the amount of calories which you burn while driving a car. Riding motorcycle also makes your knees, thighs, and neck stronger. It also acts as a booster for your mental health because being outside refreshes your mind and you become calmer, confident, happier and kinder person.
You get a chance to socialize.
Motorcyclists are more like a big family and wherever you meet fellow motorcyclists they greet by using terms like "brother" or 'sister' making you feel welcome. Just by riding a bike you become part of the global family in which you get to meet new people, interact with them and hear out their stories which wouldn't be possible otherwise.
Improves your Driving skills.
Riding a motorbike greatly improves your driving skills. You get to learn more about traffic rules and regulations and starts following them too. You become a more attentive driver as riding a motorbike you can't simply write a text or answer a phone call in all that noise, so drive with more focus and attention and a result you become more attentive to your surroundings.