Giancarlo Perlas
April 10, 2017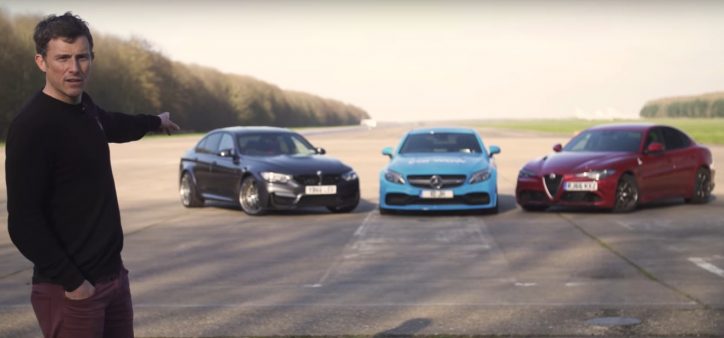 Which one will emerge as the winner if you pit the Mercedes-AMG C63 S, BMW M3 and Alfa Romeo Giulia QV against each other? In the video you are about to see, the three high performance luxury cars battle it out in drag race, braking and drifting competition.
A Quick Look at the Cars
The Mercedes-AMG C63 S Coupe houses a 4.0-liter biturbo V8 engine with 510 hp. Then, the BMW M3 is equipped with a 3.0-liter twin-turbo inline-six with 450 hp. Lastly, the Alfa Romeo Giulia QV is packing a 2.9-liter twin-turbo V6 unit with 510 hp.
Video
Check out the video below from Carwow showing how the three cars fared in drag race, braking and drifting:
Quick Results (Spoiler Alert)
In the standing quarter-mile drag race, the Alfa Romeo Giulia emerged victorious in only 11.9 seconds. The BMW M3 came second at 12.3 seconds. Last was the Mercedes C63 S Coupe at 12.6 seconds.
The traction-limited zero to sixty miles per hour launch also saw the Giulia dish out the fastest record at 3.9 seconds. The M3 came next in the rankings at 4.1 seconds. at The C63 S got a disappointing 4.3 seconds.
However, the C63 S made up for its losses by logging the best braking performance against the two cars from a sudden stop in a 70 mph run. The Mercedes yielded the highest drift angle against the two cars too with 35 degrees while the BMW got 34 degrees and the Alfa Romero took 30 degrees.
In a nutshell, the Mercedes C63 S Coupe may not be the quickest in the video, but it sure displayed amazing braking and drifting action.