Giancarlo Perlas
December 23, 2016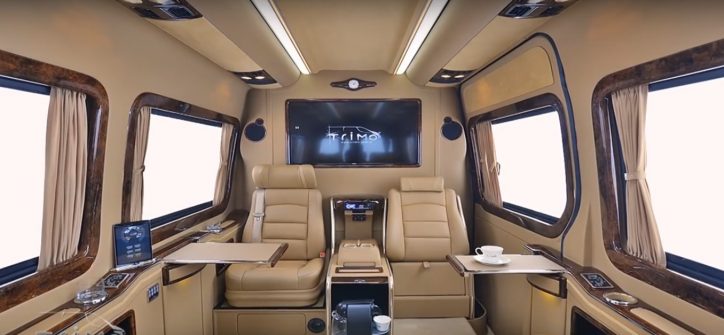 The key in making your road trip amazing, safe, comfortable and memorable is by choosing the right vehicle for it. If you are looking for an auto that will fit your requirements, you should check out the Mercedes-Benz Sprinter SVD1010 VIP Design by TRIMO.
Basically, the Sprinter has been modified by TRIMO to house premium elements inside. The cabin of the auto features an eleven-seating capacity, including the driver's seat and the front passenger seat. The nine seats in its coach are adjustable and can be fully reclined.
The surfaces of the auto were covered in what appears to be high-end leather and premium wood trims with chrome accents. We have no idea about the materials used because there wasn't much information about them in the video presentation, its caption, or even in the product page of the customized Sprinter by TRIMO.
Then, it appears that the van is adorned by retractable mini-tables, cup and tablet holders, shot glass containers, flat screen TVs, hidden compartments, mini-safe, coffee maker, surround sound system, wider windows, sunroof, mini-fridge, ambient lighting, embedded watch, and many more.
Outside, the TRIMO Sprinter doesn't veer away from the design of the standard Sprinter. The only noticeable difference between the two are the wider windows of the personalized van from TRIMO.
With all the added weight inside the Sprinter, it is surprising that TRIMO retained its stock wheels. There was no mention too of any adjustments in its suspension or any kind of engine tune. We just hope they did at least upgrade the suspension of the auto to compensate for the extra weight and for safety reasons.