Giancarlo Perlas
December 23, 2016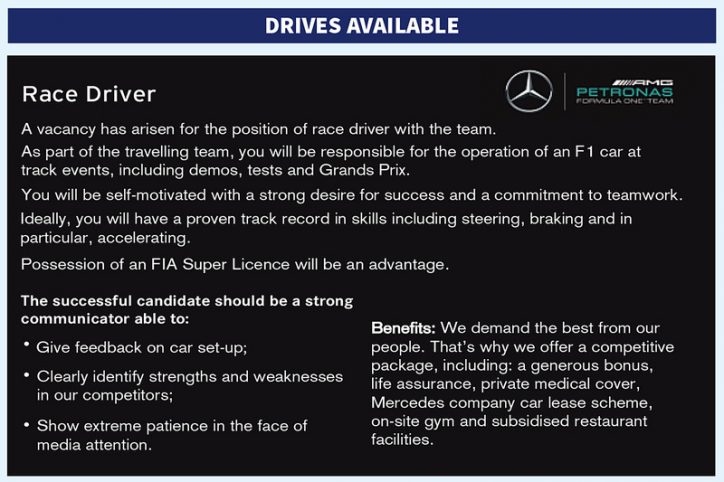 The sudden retirement of Nico Rosberg from Formula One certainly caught a lot of people off-guard, including his team. Following the announcement of the newly-crowned World Champion, Mercedes F1 posted a classified advertisement for the seat vacated by the Finn.
From the screenshot of the ad in Motorsport.com, it starts with the statement, "A vacancy has arisen for the position of race driver with the team." Then it lists down the qualifications for potential applicants. That's where humor kicks in.
One of the requirements say, "Ideally, you will have a proven track record in skills including steering, braking and, in particular, accelerating." It also mentions, "Possession of an FIA Super Licence will be an advantage."
Just to keep things clear, Mercedes F1 is simply toying with the ad. It should be noted that the team regularly posts openings in Autosport's magazine, UK's leading publication for the motorsport industry, for vacancies in the team like mechanics, analysts and team leaders. It is the first-time that the team advertised an ad for the race car driver position.
Imitating a legit classified ad posting, Mercedes F1 went on to say that among the benefits enjoyed by successful candidates are "generous bonus, life assurance, private medical cover, Mercedes company car lease scheme, on-site gym and subsidised restaurant facilities."
The source reminds that there is no address to send in the applications as well as the duration period of the posting. Therefore, the posting is definitely just a way to humor readers and fans of the team.