Giancarlo Perlas
December 10, 2016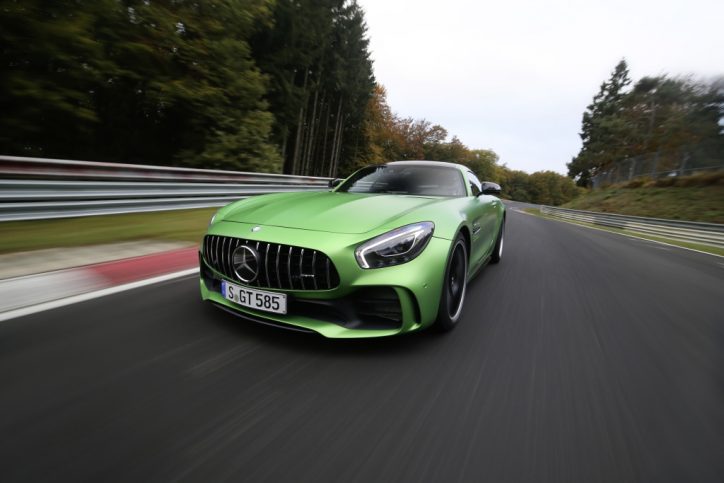 The Mercedes-AMG GT R is also known for its "Beast of Green Hell" moniker. Recently, the car proved why it is worthy of that distinction. In a test drive made by "sport auto," the AMG GT R set the fastest lap time in Nurburgring Nordschleife for a road legal sports car compared to the others tested by the motoring magazine so far.
According to the Global Media Site of Daimler, the AMG GT R conquered the whole lap in just 7:10.9 minutes. The feat is not really surprising as the auto is currently the best road car of AMG in production today. Add the fact that it was in Nurburgring where the AMG GT R spent most of its time during its development stage.
The Mercedes-AMG GT R is based on the Mercedes-AMG GT and it is inspired by the Mercedes-AMG GT3 race car. The car houses a 4.0-liter biturbo V8 engine.
The engine unit of the AMG GT R gives it an output of 577 hp at 6250 rpm and a torque of 516 lb-ft at 5500 rpm. The power of the car is distributed through an AMG SPEEDSHIFT DCT 7-speed dual-clutch transmission.
The numbers allow the AMG GT R to accelerate from zero to 60 mph in just 3.5 seconds. Then, it is capable of achieving a top speed of 198 mph.
The AMG GT R is very agile, thanks to its improved aero elements and light weight matched with a set of 20-inch wheels wrapped in the signature performance tires of its brand.
The aggressive form and the powerful engine are the ingredients that made the AMG GT R traverse the track of Nurburgring without much difficulty.