Giancarlo Perlas
November 1, 2016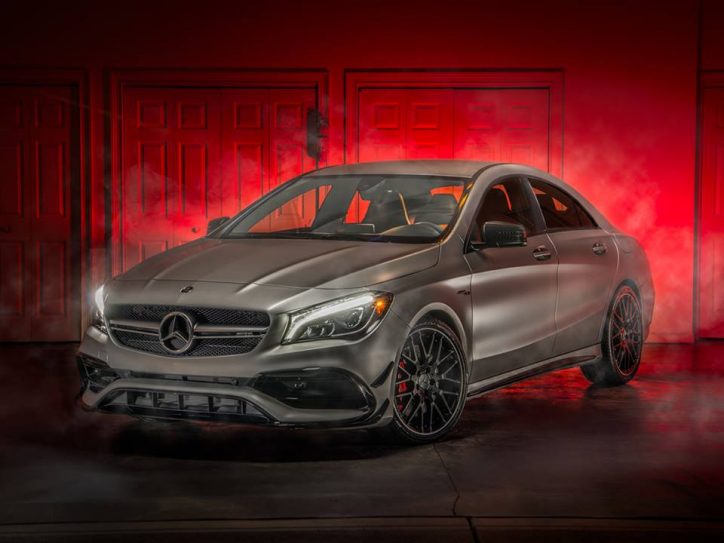 The official social media page of Mercedes-Benz USA just released a new picture of the Mercedes-AMG CLA 45, which can be seen above. It came with the caption that said, "With 375 hp on tap, the AMG CLA 45 is a monster in its own right." Then the luxury car maker proceeded to put a "halloween" hashtag on the post.
The photo had been obviously enhanced by some environmental lighting and fog effects. However, it sure looked mean with its creepy, red mansion door background. The picture is just ideal for the Halloween.
The subject here possesses a gun metal-like finish. It is possible though that it is only the standard mountain grey metallic paint offered by Mercedes-Benz USA, and as said earlier, the lighting only did the trick of giving the car a little rusty appearance.
Without the photo effects, the Mercedes-AMG CLA 45 is still a beast in its own right. It may not be within the beastly level of the Mercedes-AMG GT R, but for a compact four-door coupe with a 2.0-liter inline-four turbo engine, the car is capable of producing up to 375 hp and 350 lb-ft of torque.
The power of the CLA 45 is distributed via a seven-speed AMG SPEEDSHIFT DCT transmission. The configuration of the auto allows it to sprint from zero to 100 km/h in just 4.1 seconds. On the other hand, its top speed is electronically-limited at 250 km/h.
The CLA 45 is not just about performance too. It is rigged with technological features that guarantee the safety and comfort of its occupants like airbags, Active Brake Assist, Attention Assist, and more, including the optional add-ons from AMG.