Giancarlo Perlas
July 5, 2016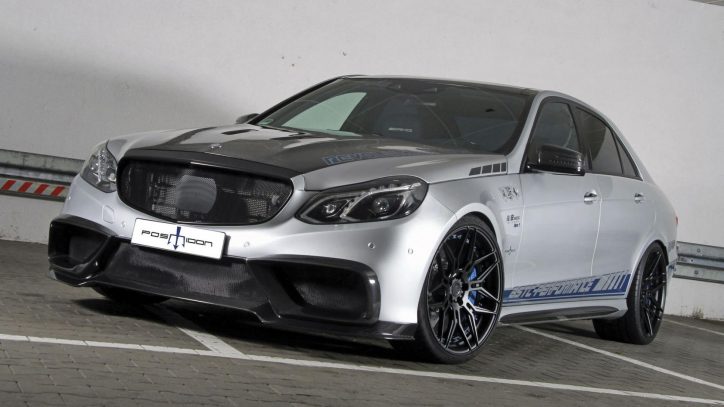 There can be nothing more flattering for a vehicle than be compared to a supercar like the Bugatti Veyron, and this is exactly what is being given to the Mercedes E-Class by tuning company Posaidon.
While Mercedes is planning an all-wheel drive E63 AMG, a particular tuning company by the name of Posaidon has just started revolutionizing the Mercedes-Benz E-Class. Using the traction offered by the outgoing AWD E63, Merc was able to produce the same performance figures on this supercar. This only means that the Posaidon-tuned E-Class will have a 218mph top speed and the ability to go 0-62mph in just 2.8 seconds.
The top speed makes the E-Class even faster than the Lamborghini Aventador SV while its 0-62mph in 2.8-second time is the standard specification of the Bugatti Veyron.
There's also a modest power upgrade. "Modest" meaning a climb from 557 to 1,006bhp. It's a little bit less than a 100-percent double, but it really depends on what "modest" means to you. But this power has also pushed Posaidon to upgrade and re-engineer a host of other components such as the turbochargers and intercoolers.
These two, specifically, need to comply with the requirements of a much bigger and more powerful engine.
Other upgrades include competition-spec spark plugs, newly calibrated limited-slip differential on each axle, bigger brakes, uprated suspension, and wider tires.
In order for the E-Class to lessen its weight, Posaidon had to ditch the interior trim and the rear seats, as well as the C63 AMG Black Series up front, which weighs 40 kilos. Carbon is also a major feature of the tuning. You'll find it on the bonnet, mirror caps, spoiler and diffuser.
In terms of top speed, Posaidon "theoretically" said it's somewhere in the 229mph neighborhood. As impressive as it may seem, a 229mph top speed is nowhere near what G-Power did with the BMW M5.