Ryan Joseph Ramos
July 5, 2016
Lewis Hamilton and Nico Rosberg are locked in a tight battle for the 2016 Formula One driver's championship, and it doesn't help one bit that they are teammates. Competition between the two have led to some ugly crashes and unnecessary contact in the past, and now the two could face fines or even suspensions from Mercedes if they are to collide in a race again.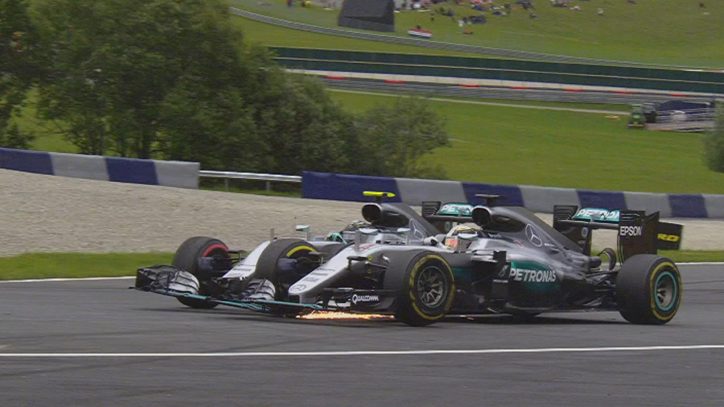 This is seen as a way for the team to avoid actually issuing team orders. With contact between the Mercedes cars in three out of the past five outings, team officials are now forced to act to prevent excessive competition between their drivers from sabotaging their races.
Mercedes-Benz Motorsport chief Toto Wolff expressed frustration at losing points once again because of a collision between the teammates, as a prospective one-two finish fizzled at the final lap no less at last weekend's Austrian GP.
"We let our drivers race and we trust them to do so – but colliding team-mates is not what we want and this is something that needs to be stopped," said Wolff after the race. "If we need to reconsider our philosophy, and to take some unpopular decisions, then we must be prepared to keep that option open."
This comes as we near the British Grand Prix, which is one of Mercedes' home races after all. There's no doubt team orders won't be appreciated by the British fans come this weekend, which is perhaps why the team hopes the threat of fines and suspensions would be enough of a deterrent to keep Hamilton and Rosberg in line.
"I didn't come into this to be in that situation [team orders], so I will pray and hope that's not the situation," said Hamilton. He is probably feeling that it's a bit unfair given that stewards decided Rosberg was at fault in that last collision, with the German being handed a 10-second penalty at the end.
Hamilton added that team orders goes against his racing values, but was quick to point out that he wants the best for the team and that he races for Mercedes.