Ryan Joseph Ramos
July 3, 2016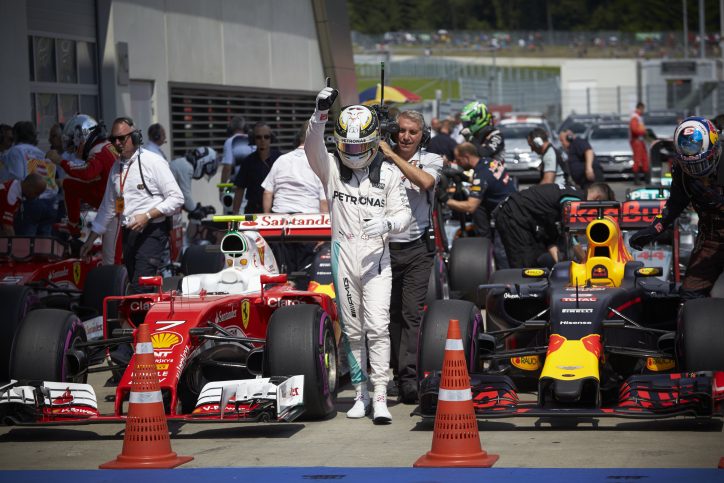 Lewis Hamilton took home the victory at the 2016 Austrian Grand Prix, fending off Red Bull's Max Verstappen and Ferrari's Kimi Raikkonen. He has now won his third race out of the last four, cutting into the points lead of Mercedes teammate Nico Rosberg once again.
At the final lap, Rosberg was still actually in a position to win until he ran wide as he exited from turn 1. Hamilton pounced at the opportunity, but not after the two cars made contact. Rosberg had sparks coming out of his Mercedes, and he was visibly slowed down. Lewis passed him soon after and went on to the chequered flag.
Rosberg was slapped with a 10-second penalty for the collision, although it did not affect his fourth-place finish.
"It was disappointing to lose the race like that," said Rosberg. "It got quite difficult on the final few laps as I had to manage my brakes and I was confident that I could bring the victory home."
"This is motor racing and the team allow us to race and it's the aim for both of us to win races – this was just an unfortunate incident today," said Hamilton.
Rosberg, who started the race in P6 after a gearbox-change penalty, still leads the drivers' standings by 11 points, with 153 to Hamilton's 142. Kimi Raikkonen's finish has allowed him to tie Ferrari teammate Sebastian Vettel, who suffered a retirement in the latest, with 96 points for third.
The race win is Hamilton's 46th career victory, but it was his maiden win at the Austrian GP. Rosberg has won here in the past two years, after the event went off the F1 calendar from 2004 through 2013.
Mercedes now heads to its home race at Silverstone, with the British Grand Prix set for next weekend. Both drivers and the team are certainly looking forward to the race, and it should be exciting once again.