Peter Parcon
April 15, 2015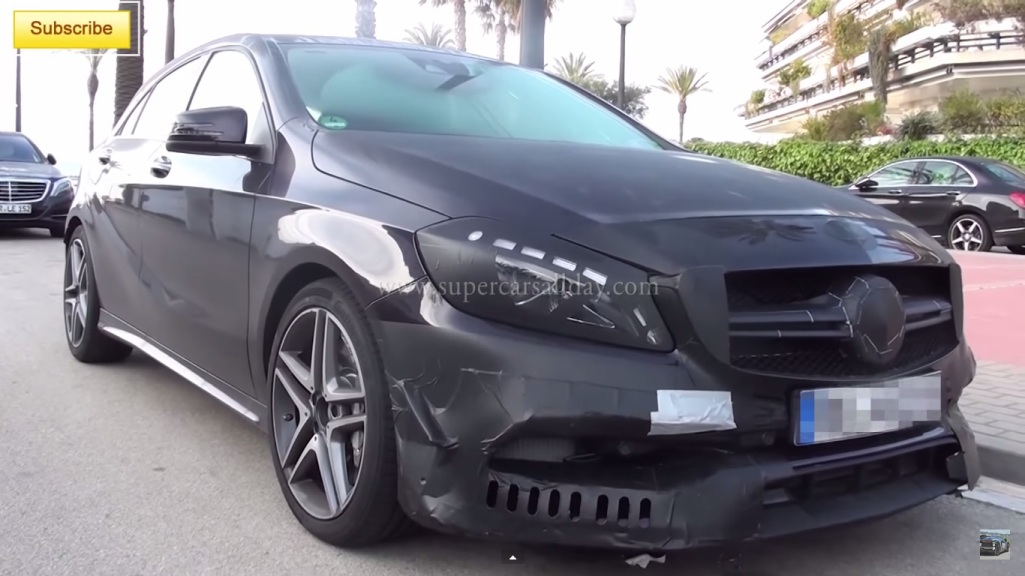 A face-lifted A45 AMG, which will reportedly be dubbed as the Mercedes-Benz A45 AMG S, was caught on video recently as it was going through road testing in Spain, according to a report from autoevolution.com. The video showed a glimpse of what may become the next most powerful luxury hatchback to enter the market.
The camouflage in front and rear may give indications that the luxury hatchback has gone through significant changes. It appears the updates on the A45 correspond with the expected mid-life facelift of the A-Class of Mercedes-Benz. Some industry watchers believe that the latest model of the A45 AMG may have a similar appearance as the C63 S, particularly along its front end. It may also be possible for additional carbon fiber aero components to be installed into the vehicle.
The Mercedes-Benz A45 AMG was the most powerful vehicle in its segment when it was initially launched. While the 2-liter turbocharged engine of the super hatchback has a power output of 360 PS, it is slightly lower than 367 PS produced by the 2.5-liter engine of the Audi RS3.
Due to this disparity, it is essential for the company to induce the inline-4 AMG power plant of the updated super hatchback to produce around 380 PS of power. If the luxury vehicle manufacturer can do this, the A45 AMG may be capable of accelerating from 0 to 100 km/h within 4.4 seconds.
Speculations have emerged indicating that the new Mercedes-Benz A45 AMG S will have a price tag of around $65,000. While this is a rather high price for a luxury hatchback since the BMW M3 with all its features has a price tag of around $77,000, it seems that Mercedes-Benz is serious about offering the fastest hatchback in the market.
The latest Mercedes-Benz A45 AMG S is expected to be officially unveiled sometime in August, prior to the opening of the 2015 Frankfurt Motor Show.