Giancarlo Perlas
October 29, 2014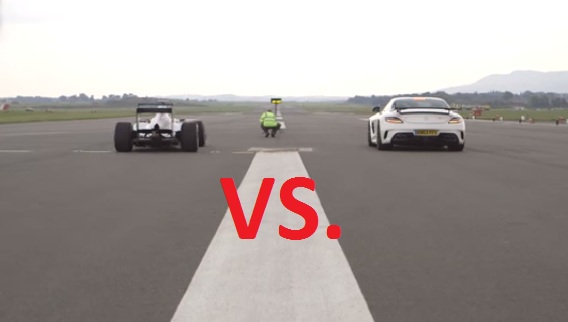 What will happen if you pit the Mercedes SLS AMG Black Series against the W03 of Mercedes AMG Petronas Formula One Team? Well, it does not take a genius to figure out the answer to this question. Despite the overwhelming power of the SLS AMG Black Series, it will surely eat dust while enjoying a nice view of the W03's backside if you have them race each other.
Of course, the cars are completely different from each other, so it does not really feel right to compare the two.However, for the sake of fun, and to see how much distance can the W03 get between it the SLS AMG Black Series, let us watch the video below anyway, which was provided by Auto Express via YouTube:
As expected, the stockier super car never stood a chance with the more agile F1 car. The W03 completed the 1,800-meter track in 20.2 seconds while the SLS AMG Black Series was behind by six seconds with a time of 26.54 seconds. It wasn't even close.
Two Cars Representing the End of an Era
The Mercedes SLS AMG Black Series shown in the video carried a 6.2-liter V8 engine capable of giving off 631 hp with a weight of around 1690 kg. On the other hand, the W03 was the last car driven by Michael Schumacher in his career as an F1 driver in 2012. The F1 car was equipped with a 2.4-liter engine with an output of 760 hp and had a total weight of 650 kg.
Both considered as cultural icons, the two cars represented the V8-dominated era. Two cars that engine noise-hungry fans loved for their amazing sounds in the track—something that their current predecessors are evidently lacking.