Giancarlo Perlas
October 22, 2014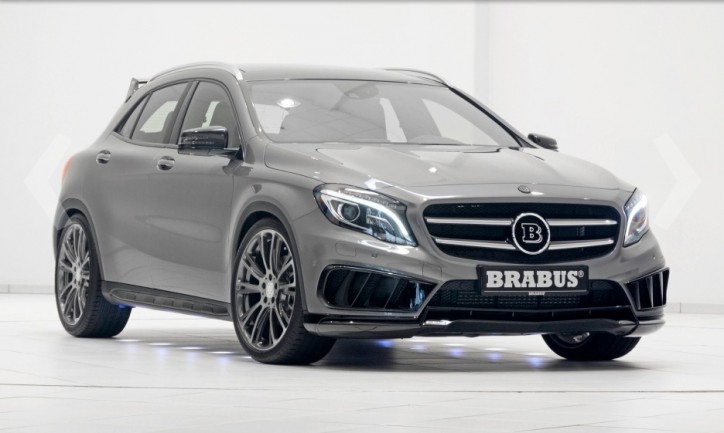 Brabus recently released its new tuning package for the Mercedes GLA 45 AMG. According to Auto Zeitung, the new package of the German aftermarket tuning firm for the SUV includes a couple of aerodynamics and styling configurations, plus a boost in the engine output.
Taking a peek under the hood of the vehicle, the Brabus PowerXtra CGI kit enhances its engine output to a maximum of 400 hp and its torque is increased to a whopping 500 Nm. The power enables the modified Mercedes GLA 45 AMG to achieve a sprint of zero to 100 km/h in only 4.4 seconds. Also, it improves the top speed of the auto to 270 km/h.
Going to the exterior, the wheels are replaced by aerodynamically-enhanced five twin-spoke sports wheels with sizes ranging from 18 to 21 inches. Then, it is fitted with quad-pipe stainless steel exhaust system, rear spoiler, rear diffuser, and front splitter. In addition, the height of the GLA 45 is dropped to 25 mm. However, Brabus offers an option to increase the height by 30 mm too for customers who prefer a more comfortable riding experience.
Underfloor lightings with LED lamps are placed beneath the skirts of of the vehicle as well. These serve as both an eye-candy and as a guide during low-light conditions. The lamps are illuminated using the remote control of the GLA or set off automatically when pulling the doors.
Lastly, Brabus offers optional aluminum racing shift paddles and backlit badges. The badges are placed on the key areas of the SUV such as the door sills, matt effect pedals, and door locks.
Photos of the Brabus Mercedes GLA 45 AMG
Check out the photos of the Brabus-customized GLA below, which were provided via Auto Zeitung: