Peter Parcon
April 27, 2014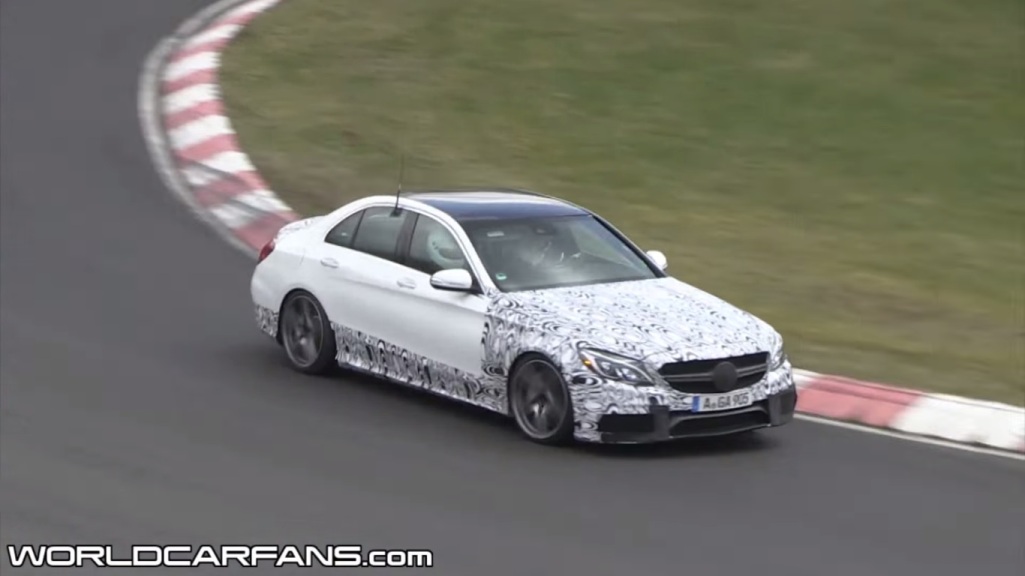 A video of the upcoming 2015 Mercedes-Benz C63 AMG Sedan was posted recently by worldofcarfans.com. The video showed the upcoming vehicle taking on Germany's Nürburgring track in full speed.
The luxury vehicle manufacturer is currently testing the C-Class, which is expected to enter the market near the start of next year. The video provides Mercedes-Benz enthusiasts with a good look at the performance of the 4.0-liter twin-turbocharged V8 engine of the vehicle. This power unit merges a pair of four-cylinder, 2-liter units that are currently being used on the AMG A-Class model lineup.
The engine was relatively quiet as the tires started to squeal each time it went around corners. Compared to the 6.2-liter naturally-aspirated V8 engine of the C63 AMG, the engine of the upcoming vehicle was considerably muted. The new engine used on the upcoming 2015 Mercedes-Benz C63 AMG continues the move of the company of introducing smaller engine capacities. These engines are expected to serve as the replacement of the 5.5-liter twin turbo engines.
The engines are expected to offer at least 480HP of power, which can reach 580HP depending on the specifications. It will be paired off with the 7G-MCT SpeedShift transmission that is currently found on a number of AMG models.
Reports have also indicated that an S version may also be offered in the future. This variation will offer additional power, an aggressive-looking body and better brake system.
Although the sedan model of the 2015 Mercedes-Benz C63 AMG is shown being tested on the video, it is expected that Mercedes-Benz will offer numerous models of the vehicle. An estate, coupe and cabriolet are among the models that may be released by the company. A number of other models are also expected to be offered by the luxury vehicle manufacturer before the end of this year and next year.
The upcoming 2015 Mercedes-Benz C63 AMG Sedan is expected to be launched during the Paris Motor Show in October.