Giancarlo Perlas
February 5, 2014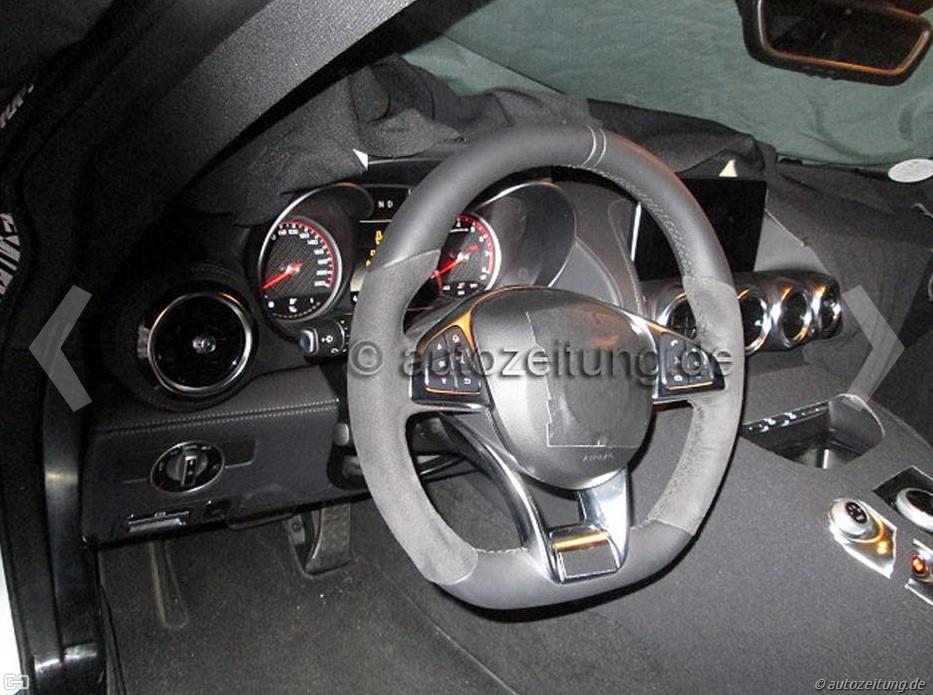 Previously, we gave you spyshots and rendering of 2015 Mercedes AMG GT, which is currently hyped by Daimler and Mercedes executives as the "most beautiful car ever designed" to sport the Mercedes symbol. Now, thanks to the German website Auto Zeitung, we were able to get a glimpse of what the interior of the upcoming "pure sports car" of Mercedes-Benz might probably look like.
Based from the pictures taken by the German publication, the 2015 Mercedes AMG GT interior definitely reflects its sporty identity.
Upon peeking inside the 2015 Mercedes AMG GT (note that the name of the car is not yet final), you can see a flat-bottomed steering wheel wrapped in leather and Alcantara embellished with metallic accents. Four air vents can also be found at the center of the car. One noticeable device in the center of the car too is its touchscreen display which seems like something that was just added in the final stages of development of the car.
Among the other things that you can see in the driver's side of the 2015 Mercedes AMG GT interior are the shift paddles located behind the steering wheel, speedometer with numbers reaching up to 220 mph, control for the different driving modes, parking brake button, start/stop button and the standard climate controls.
Despite its "pure sports car" moniker, as termed by Ola Kallenius, one can't help but associate the car with luxury. First of all, bearing the Mercedes logo is enough to connect a vehicle with "luxury". Second, the high-end performance and design of the car make it hard to keep it apart from that word too.
2015 Mercedes AMG GT Interior Spy Shots
Be the judge if the 2015 Mercedes AMG GT Interior indeed reflects a "pure sports car" or if it still carries shades of a "luxury sports car". Check out the spy shots here taken by Auto Zeitung and share to us what you think.