Ryan Joseph Ramos
July 28, 2013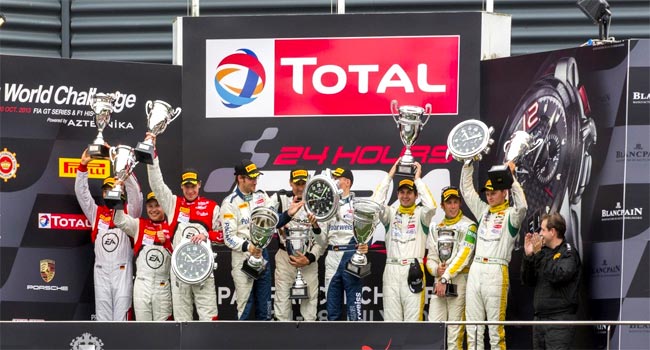 Mercedes-Benz Motorsport definitely had a big weekend. Just an hour after Lewis Hamilton claimed his first Mercedes F1 win, Bernd Schneider of HTP Gravity Charouz took home his SLS AMG GT3 to the chequered flag of the 24 Hours of Spa event.
The victory marked the first time that a Mercedes-Benz car won the endurance event since 1964. In addition, it is only the third time the automaker claimed a victory in the event since it started way back in 1924.
Apart from this event, he had also won at the Dubai 24 Hours, Bathurst 12 Hours, and Nurburgring 24 Hours. The series of wins is a very impressive feat for the 49-year-old German driver and former DTM champion.
Schneider retired from motorsports at the end of the 2008 DTM season, but came out of retirement to take part in these GT endurance racing events.
He takes the win with teammates Maximilian Buhk and Maximilian Gotz. They completed a total of 564 laps on the way to victory. There were six different race leaders, 44 lead changes, and nearly half of the field of 65 ending up as retirements.
This particular one, the highlight of the Blancpain Endurance Series, present a particularly challenging time for drivers as it started out with heavy rain. Conditions got better over time though, and it was sunny by the time the win was at hand.
"The last two hours we could be a bit more gentle with the car but up until there it really was flat out," said Schneider. With various problems hounding the Mercedes rivals, the team was able to cruise to victory. The No. 84 SLS AMG GT3 crossed the finish line 1:18 ahead of Manthey Racing's Porsche 911 GT3.