Clarissa
April 23, 2012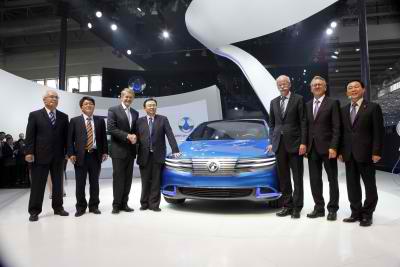 DENZA, the new brand under Daimler family presented the public their all-electric car in Beijing at the Auto China event. This vehicle powered by batteries are now part of the Chinese New Energy Vehicle or NEV segment.
"Even before the birth of DENZA, Shenzhen BYD Daimler New Technology Co., Ltd. (BDNT) has created a very special 'first': When Daimler and BYD made their partnership official in the spring of 2010, they founded the first joint venture in China dedicated solely to New Energy Vehicle. The Joint Venture is making extremely positive progress with the first prototypes of the future production model already out on the streets," said Ulrich Walker, BDNT Chairman of the Board and CEO of Daimler Northeast Asia.
The DENZA brand is the first ever in the NEV segment and this was all made possible by Daimler' s 125 years of experience in auto manufacturing and BYD's excellence in battery technology and e-driving systems.
In a press statement, Daimler said that they chose China for DENZA because of its government's sincerity to reduce their reliance on crude oil, as well as their great potential as an NEV market because of its urbanization and increasing middle class market.