Kharl Prado
April 23, 2012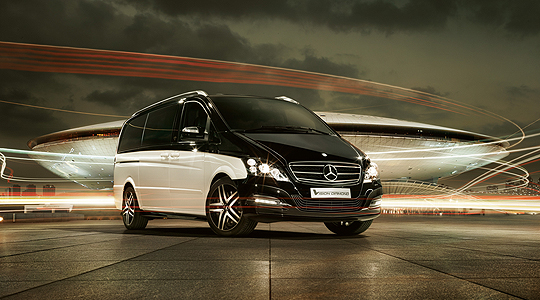 Here's something to look for in this year's Beijing Auto Show – the Mercedes-Benz Viano VISION DIAMOND. This luxurious version of the Viano will surely turn heads with its host of extravagant visual cues both inside and out.
Chrome grille louvers, a two-tone paintjob and a blacked out radiator grille easily makes the VISION DIAMOND stand out, especially with a gold shimmering line running along the body to separate black and diamond white color tones.
It is said that the devil lies in the details. The painted diamond adorning the B-pillar is proof of this along with two-tone rims on the five-spoke wheels and the brake discs featureing the brand name in an impressive gold.
The interior totally spells out luxury. Mercedes-Benz's MAGIC SKY CONTROL system is featured on the rear window as well as the glass window separating the chaffeur and the passenger area.
The MAGIC SKY CONTROL system magically tints the glass by activating a liquid in the panels via an electric current, highlighting luxury in terms of privacy and comfort. The seats and door panels are covered in nappa leather, which works its way up the instrument panel, steering wheel, gearshift as well as A and B panels, a perfect combination with the porcelain white carpet, seats, seatbelts and ceiling.
What's most impressive for me? Champagne glass holders to complement an automatic Champagne bottle cooling unit. Ahhhh — the finer things in life.
What's more to be said except you should check out this baby in the show, or click away in the gallery below.
Source:
4-traders.com