Clarissa
December 15, 2011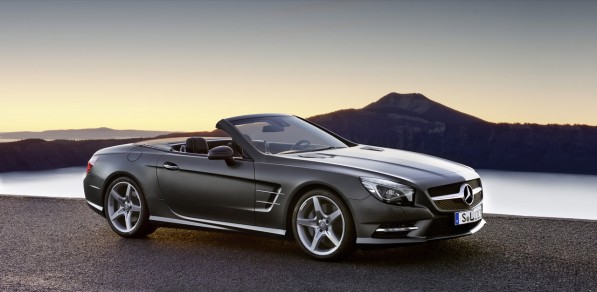 The new Mercedes-Benz SL is lighter, with a 89% aluminum body, it is a first for Mercedes-Benz and probably for the whole car industry as well, which is why it is much talked about. After the brochure scans and the "leaked" official photos, the SL also got an official price tag now.
Aside from the aluminum shell, the car also gives out power because of its new BlueDIRECT engines that produces 435HP for the SL 500 and 306HP for SL 350. It is also more cost-efficient, as fuel consumption is reduced by 22 percent all the while increasing the torque to 700Nm. A proof that the fuel economy is not lowering its performance, the SL 350 is reported to accelerate from 0 to 100km/h in 5.9 seconds and the SL 500 just for 4.6 seconds.
Meanwhile, the design of the car cannot be taken for granted as well. The flowing contour and the bumper with LED technology also makes it look amazing. The headlamps also comes with the Intelligent Light System (ILS) which has five different functions and are customized to run in different weather conditions, which means safety for the driver too.
Another new for this car is the MAGIC VISION CONTROL which is an intelligent wipe or wash system. What this does is it avoids water to splash in the windshield by having the fluid in the wiper blade instead. It is also full heated so that the blade won't frost during winter. The "Hands- Free Access" feature is also in the SL, which only needs the driver to put his foot on the area of the bumper for the boot lid to close or open.
More than the high-tech features, safety is of paramount importance in this vehicle. The PRE-SAFE brake, NECK-PRO head restraints are working together to make the SL the world's safest roadster on the market.
The Mercedes-Benz SL also comes with the COMAND infotainment system for driver and passenger enjoyment.
"There are around 900 million cars in the world and thousands of models. But there are only a handful of automotive icons. Our SL is one of them: it has class, it has style, it is the ultimate in comfort and luxury. But it combines all that with incredible sportiness and dynamism. You would struggle to find a car that embodies Gottlieb Daimler's aspiration more perfectly than our new SL: the best or nothing," said Dr. Dieter Zetsche.
The new SL can now be ordered. The SL350 is priced at €93,534 and the SL500 is at €117,096, including 19% VAT.