Giancarlo Perlas
February 24, 2023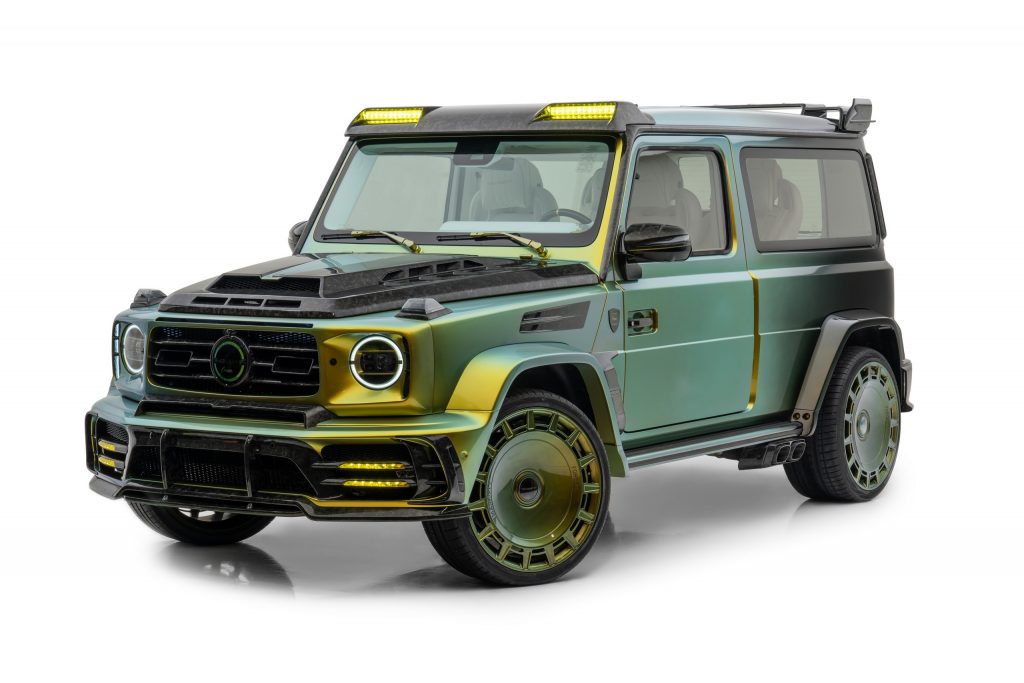 While a lot of fans of the three-pointed star marque are eagerly anticipating the coming of the long overdue Mercedes-Benz G-Class coupe or Baby G-Class, Mansory just unveiled its own version of the vehicle. Recently, the German tuner its own take on the two-door Mercedes-AMG G63 in the form of the Gronos Coupe EVO C.
Exterior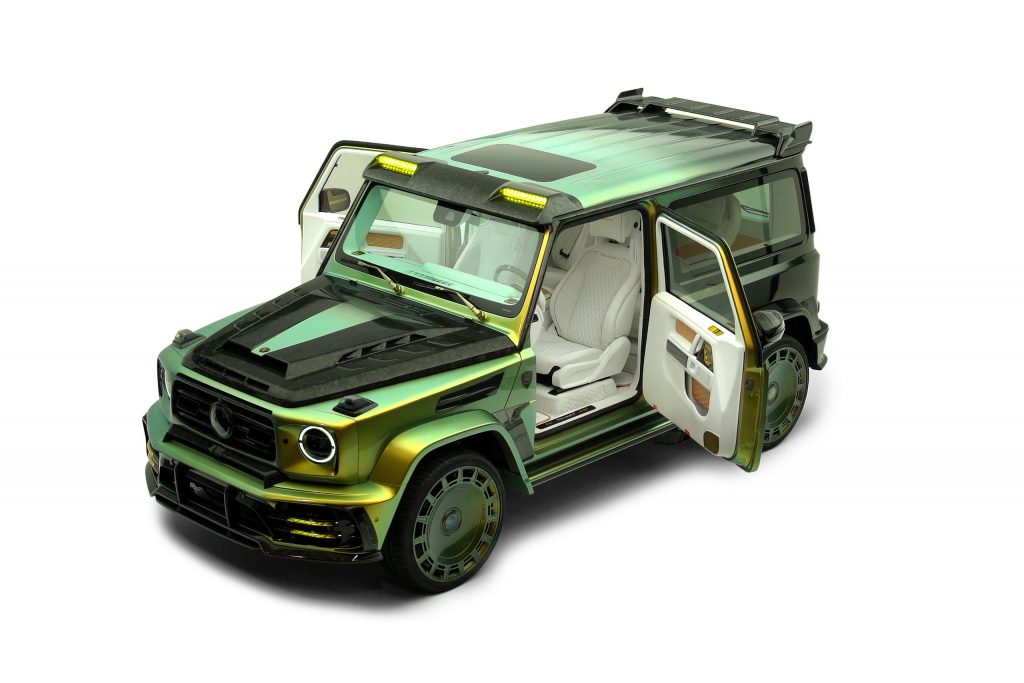 Mansory is known to be a hit or miss in its works, but who could really blame them? As long as people cater even to their most absurd offerings, its specialists will just continue making them.
Unfortunately, the G-Class Coupe here shows a ridiculous amount of upgrades that totally erase its iconic identity. Right off the bat, the tuner replaces the front doors to give way to a wider, suicide-opening entryway.
Then, the rear doors are deleted along the way while retaining the rear seats just to give rear passengers a harder time reaching into them. Meanwhile, the B- and C- pillars are moved further back, thus, removing the D-pillar out of the way.
The Mansory G-Class Coupe takes a new paint scheme comprising different hues of gold, black, and green. In addition, it integrates a widebody kit that features a plethora of new parts, including wider fenders, hood scoop, air intakes, LED lights mounted on the roof, front grille, rear roof spoiler, and 24-inch wheels hugged by 295/30 tires, just to name a few.
Interior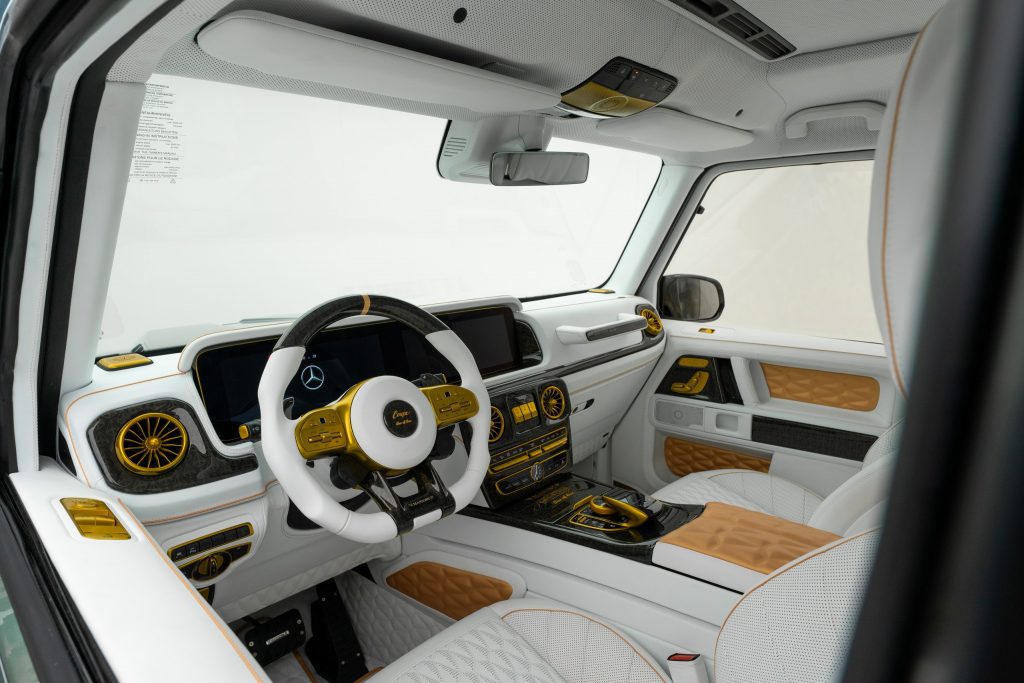 Inside, the Mansory AMG G63 coupe offers finer leather for its upholstery dominated by white and with special stitching patterns and piping. Gold accents further accentuate the panels, air conditioning vents, controls, and other key areas of the cabin for a contrasting look.
Moreover, the tuner replaces the stock bench of the G-Class to pave the way for two individual seats that appear to provide more comfort to the rear passengers than the original unit.
Power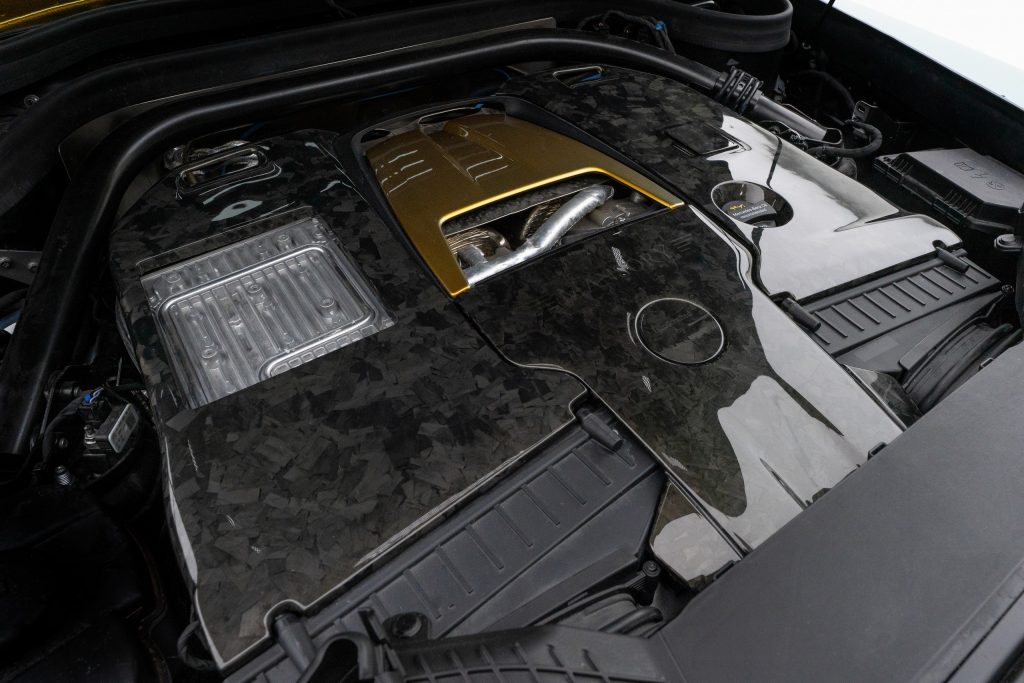 Lastly, the 4.0-liter twin-turbo V8 engine of the Mercedes-AMG G63 is upgraded to deliver a total of 887 hp and 885 lb-ft of torque. The new output allows the Gronos Coupe to accelerate from 0 to 62 mph in just 3.3 seconds and top at 155 mph.