Giancarlo Perlas
January 18, 2021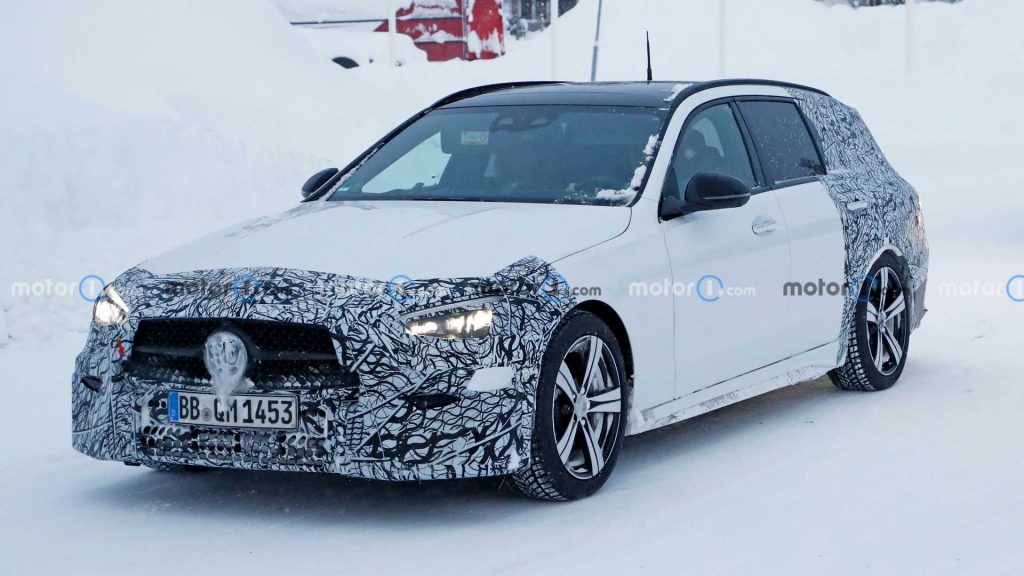 The 2022 Mercedes-Benz C-Class Estate was spied during its most recent winter testing. Compared to the last time we saw it, the prototype has dropped more camo, which suggests that its unveiling may be near.
The next-generation C-Class sedan has been making its rounds since 2019, and last year, its heavily camouflaged Estate version came out in the open. The latest spy shots of the wagon bares most of its body just like its sedan model. However, the front and rear portions of it remains covered. The images from the source also show two versions of the auto.
Similar to the sedan variant, the Estate features a smoother surface that is defined by more organically-integrated creases instead of the more rigid body lines of the previous generation of the range. Then the narrow headlamps and taillights follow the ones found on the facelifted E-Class.
The white car appears to be a higher-trim model because it hints at a sportier front grille design. It also has tinted rear windows, sunroof, contrasting mirror caps, and chrome accents on the door handles. The larger alloy wheels further support this claim.
It's hard to see the interior of the C-Class Estate from the new spy shots. However, basing on its interior photos that were leaked last year, it is equipped with two large screens on the dashboard, including a large central display below the air vents in the middle.
The 2022 Mercedes-Benz C-Class Estate is expected to mirror the same powertrains offered by its sedan version, and it will get the same tech offered by the car like the updated MBUX infotainment system. There is a rumored All-Terrain model of the auto too that's inspired by the E-Class All-Terrain.