Giancarlo Perlas
July 11, 2020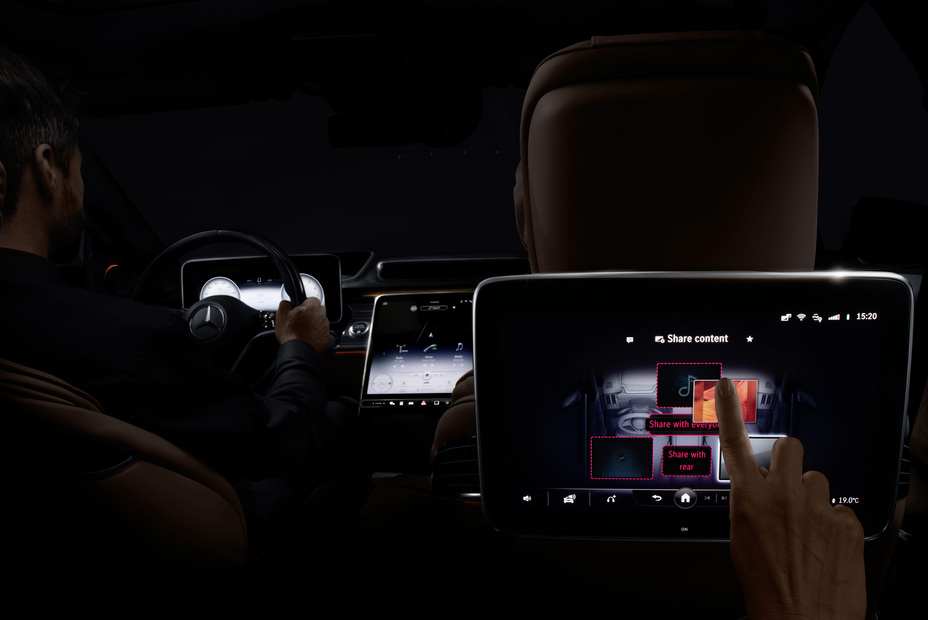 Earlier, Daimler board member Markus Schafer gave us a peek at the interior of the next-generation Mercedes-Benz S-Class. From his video, we got a glimpse of the free-standing central display of the car and its head-up display. But there's more in the new teaser from Daimler because the car actually has five displays.
The 2021 S-Class will come with a standard display measuring 12.8 inches with the second-generation MBUX infotainment system. The good news is that the driver will not be the only occupant who will enjoy the goodies it provides. Even the passengers at the back will get to benefit from the features of the system because of the auto's three rear touchscreens. The driver takes the head-up display, central gauges, and the center screen though.
The new S-Class shows that Mercedes is slowly shifting to a more digital cockpit. Instead of the usual button controls, most of the hardware found within the car now works through touch, voice, and eye gestures. The company said that 27 switches were removed in the 2021 S-Class.
Each passenger can control his or her respective screen. Through the microphones installed in strategic positions inside the car, occupants can issue the "Hey Mercedes" command to activate the various functions of the MBUX system like the climate control, ambient lighting, fragrance control, massage function, and others. Through the help of each mic, the AI can also identify which person issued a certain command. The software can even recognize 27 languages and it can adapt over time to adjust to the preferences of the driver and the passengers.
Furthermore, Mercedes revealed that the augmented reality of the car can detect objects and road conditions 33 feet away in front. It uses an eye-tracking system when projecting arrows on the windshield and it provides information on the path with the help of Active Distance Assist.